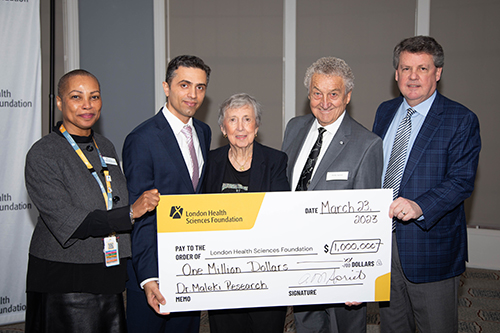 LONDON, ONTARIO – Today, London Health Sciences Foundation (LHSF) is proud to announce a $1 million gift from Andy and Helen Spriet in support of establishing an immuno-oncology research program at London Health Sciences Centre's (LHSC) London Regional Cancer Program (LRCP). With this transformative gift, the Spriet's have propelled Dr. Saman Maleki and London onto the world stage for rare fecal microbiota transplantation (FMT) in combination with immunotherapy, revolutionizing cancer treatment options in an unconventional way. 
"The generosity Andy and Helen have displayed is truly remarkable," says John MacFarlane, President and CEO of LHSF. "This transformational gift is an investment in innovation that will enable Dr. Saman Maleki to expand his groundbreaking research in immuno-oncology."  
Immuno-oncology is the process of studying and developing treatments that tap into the power of the body's immune system to help fight cancer. As interest within immunotherapy is on the rise, Dr. Maleki and a cross-disciplinary team are pioneering translational clinical research aimed at improving the gut microbiome via FMT and other bacterial-based therapies, to improve treatment response rates in patients across various types and stages of cancer.  
 
"Our translational and clinical research is focused on activating a patient's immune system against cancer by transforming their unhealthy gut microbiome with the gut microbiome of a healthy donor through a fecal microbiota transplant," says Dr. Saman Maleki, Translational Immuno-Oncology Scientist. "We are aiming to improve patient outcomes by boosting their immune response to the treatments administered."  

In 2019, Dr. Maleki pioneered one of the first human FMT trials on patients with advanced melanoma, resulting in less treatment toxicity for patients and an improved treatment response. Since the results have shown great potential, it's opening the doors to future opportunities and applications. 
"We are now at the beginning of an exciting era for microbiome research in oncology, one started right here in Southwestern Ontario," says Dr. Maleki. "Andy and Helen came in at a critical juncture and effectively took this program to the next level. They believed in my vision and what I am doing, and for that, I am eternally grateful."  
With the donation from Andy and Helen Spriet, and subsequently the backing of the Ontario Institute for Cancer Research (OICR), Dr. Maleki can now expand his clinical trials and research outside of melanoma to include pancreatic, kidney and even lung cancers. A biobank of stool samples combined with the transformational gift from Andy and Helen and funding from the OICR will provide Dr. Maleki with access to valuable resources, connections and support to help better understand FMT. This will help advance immunotherapy in London and around the world.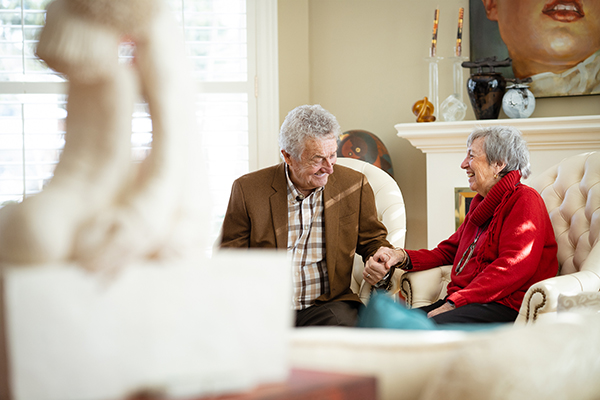 "As an engineer and architect, I have always loved the excitement of building something," says Andy Spriet. "When Helen and I saw what Saman was building with his program there was no question we wanted to invest in him and his research."  
As Helen Spriet said, "We just hope this can help change cancer research and that one day, families won't have to suffer."