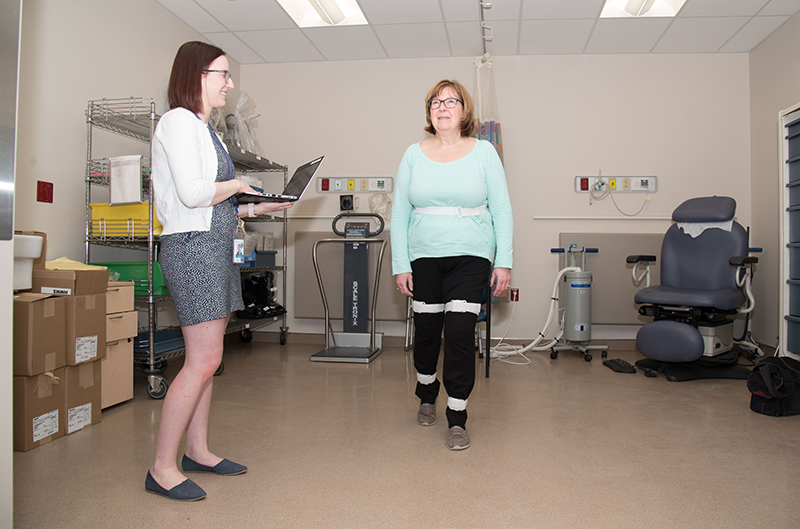 Your IMPACT

Did you know that more than 11 million Canadians are affected by musculoskeletal conditions such as arthritis and other bone and joint issues?
Here at LHSC, that means there are nearly 3,000 joint replacements each year. Thanks to donor-driven research and equipment, these procedures can sometimes be as straightforward as getting a hip replacement in the morning and being home for dinner.

Dr. Brent Lanting, orthopaedic surgeon, is leading the charge on minimizing the impact of joint replacement procedures. He's performing clinical trials with donor-funded wearable technologies that are leading to better patient outcomes.
"When you think of wearable technology, you think Fitbit," Dr. Lanting says. "But these are super precise, multi-joint recording devices."
These devices, called LEGSys+™, have a variety of uses, such as:
• providing greater understanding into the likelihood of falling after hip replacements;
• tracking a patient's movements before and after knee replacements to help improve surgical techniques and recovery pathways;
• allowing research into the reduction of narcotic dependency by providing data that leads to optimized physiotherapy during the two weeks following surgery.

The research performed with the wearable technologies will inform more personalized approaches so that each patient receives the most accurate care tailored to their physiology and needs.

n It means patients like Sally, who has had two knee replacements in the past year, will spend as little time in the hospital as possible and more time enjoying life.
"This donation enabled us to purchase a product that we wouldn't have otherwise had access to," Dr. Lanting says. "And now that we do, we've leveraged that into new research grants, investigation into new surgical approaches, and measurement of our current outcomes so that we can optimize future care."