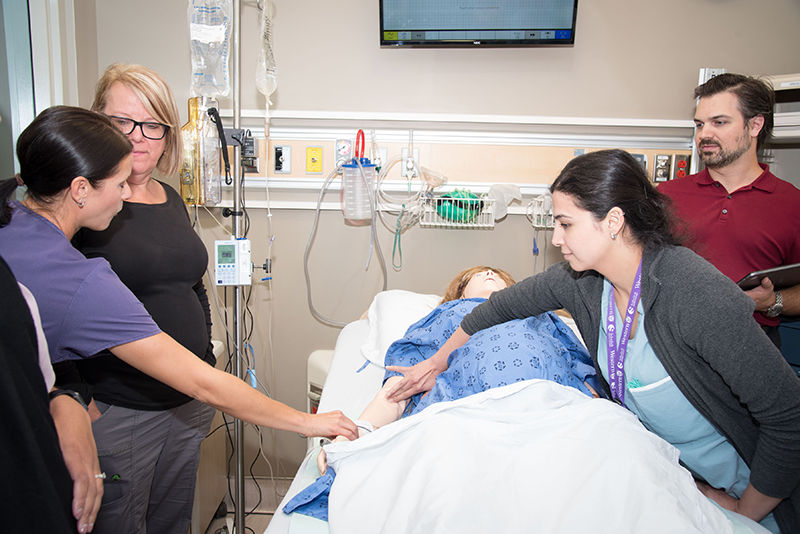 DONATE TODAY


"See one, do one, teach one" was once the practice for medical education and training - health care professionals learned by observing and practicing in real patient-care situations.



Thanks to the Gunning family, TD and other donors, training has shifted to allow for more hands-on learning in a risk-free environment.
Opened in 2017, the Michael Gunning Simulation Centre is a unique space where care teams come together in a realistic, simulated patient care setting to respond to emergencies and learn life-saving skills.

A newly purchased "SimMom" joins "Noelle" the original mannequin purchased through donor dollars as the second high-fidelity mannequin able to simulate birth. The new mannequin has features that allow the team to simulate high-risk scenarios like a breech birth (where the baby is not positioned properly). These situations often call for a range of different specialists that include anesthesiologists, obstetricians and gynecologists, residents, nurses, respiratory therapists and midwifes.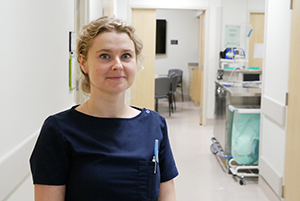 ​
"We're so fortunate to have this unique space where interdisciplinary and interprofessional teams come together to care for the patient as they would in real life situations," says Dr. Taryn Taylor, MD, PhD, FRCSC, one of the training leads for women's simulation education.
Having pursued a senior fellowship in simulation education at the University of Ottawa, Dr. Taylor is passionate about coming up with creative ways of simulating live scenarios in order to best train the teams in crisis resource management.

LHSC's simulation program has a farther reach than just within the Simulation Centre. The simulation mannequins are portable and can be brought to community hospitals as well as to the obstetrics floor for training, which has helped the Women's Care Team identify and plan for potential safety threats, ultimately leading to improved patient outcomes. The Simulation Program covers a wide range of emergencies to ensure that - no matter the emergency - the care team is prepared. This is especially beneficial for students and residents who would not otherwise be given this unique opportunity.
"My experience in the simulation centre has provided me not only with the skills, but the confidence to remain calm and provide the best care in real life emergencies, and has been one of the most useful learning opportunities I've had during my residency." – Dr. Samantha Gerber, Resident
Donor support also helped to purchase new training boxes (pictured) that are used by residents and physicians for Ob/Gyn simulation training. These provide a safe and cost-effective solution for acquiring the basic skills required for laparoscopic (minimally invasive) surgeries, such as hysterectomies.

Thank you for helping the Women's Care team deliver world-leading training and care at London Health Sciences Centre!