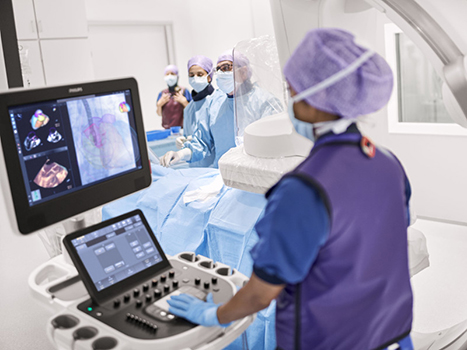 A clearer vision
As advancements to picture quality and "smart" innovation continue to speed along, imaging technology continues to play an essential role in the diagnosis and treatment of patients. Just as how speed and clarity are paramount when we consider everyday items such as our mobile devices, so is it true of cardiac imaging.

With some of these machines being between 12 – 15 years old, the cardiac care team at London Health Sciences Centre (LHSC) was in urgent need of upgraded equipment. Thanks to generous donors, LHSC's cardiac department received three new echocardiography machines boasting improved speed and accuracy.
Approximately 2.4 million Canadians over the age of 20 live with a diagnosed heart disease
Ultrasound of the heart
To safely and accurately assess patients with heart conditions, the cardiac care team uses echocardiography, also known as a cardiac ultrasound. By using sound waves, sonographers can capture moving pictures showing the shape and size of your heart, along with how well your heart's chambers and valves are working.
Getting the whole picture
There are 20 echocardiography machines between Victoria Hospital and University Hospital. These vital imaging tools support numerous teams throughout LHSC, including:
Cardio oncology
Chest pain service
​​​Heart failure service
Hypertrophic cardiomyopathy service
Interventional cardiology service
Adult congenital heart service
Pediatric cardiology
Fetal echocardiography team
Transesophageal echocardiography
Stress echocardiography
Heart rhythm service
Cardiac surgery
"The speed in which we can assess patients with acute cardiovascular complications is critical to their well-being. These ultrasound machines allow us to provide detailed, accurate diagnosis and treatments. We're incredibly grateful for the generous support of donors"

Dr. Niko Tzemos, director of cardiac imaging, LHSC

The facts
LHSC does between 25,000 – 28,000 echocardiograms per year (pre-pandemic)

Approximately 750,000 Canadians are living with heart failure

Every hour, 12 adult Canadians die from heart disease

Imaging is crucial when it comes to discovering abnormalities in the heart, serious and otherwise. And as our community continues to grow, so too will the need for more access to diagnostic imaging. As LHSC's cardiac department looks to upgrade its fleet of echocardiography machines, donor funding is vital as ever.
Because of you, more people will have access to the most advanced cardiac imaging technology, making for faster diagnoses and improved patient outcomes.
If you would like to support the Cardiac Care Program at London Health Sciences Centre, contact Alison McCloskey, Senior Development Officer, London Health Sciences Foundation at 519.685.8720 or alison.mccloskey@lhsc.on.ca.