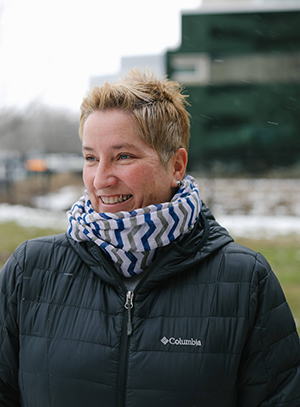 Standing in the way of neurodegeneration
For the last year-and-a-half, Denise Hulley has been making a difference in amyotrophic lateral sclerosis (ALS) research at London Health Sciences Centre (LHSC), supporting Dr. Christen Shoesmith, medical director of LHSC's ALS Clinic.

On the frontline of ALS research at LHSC, Denise is currently in the process of steering five separate drug trials through various phases of investigation, each one aimed at slowing the progress of this malicious disease.

As a research coordinator, Denise has been studying neuromuscular diseases at LHSC for eight years. Her focus now includes all ALS research, working alongside Dr. Christen Shoesmith against a disease with no known cure. Currently, Denise is studying the safety and efficacy of multiple new drugs to potentially treat ALS and give more patients hope for their future.
 
FUN FACT: Denise is on-call 24/7 as a volunteer firefighter—a role she's maintained for over 15 years.
 
"ALS is devastating not only for the person affected, but also for that person's family and friends as they watch symptoms worsen over time. If I can help provide even just a little bit of hope, it'll be worth it."
Denise Hulley, research coordinator, neuromuscular sciences
The Facts
People with ALS experience gradual degradation of communication between the brain and muscles until, inevitably, losing the ability to breathe.
The average lifespan of someone recently diagnosed with ALS is three years.
Approximately 3,000 Canadians are living with ALS today.
 
From studies to determine a drug's safety, to those demonstrating effectiveness, Denise says it's all about giving people more time. Donor support is an essential part of driving ALS research forward. By giving our scientists and researchers more time in the lab, improving efficiencies and breaking new ground, you can help give more people time with their families; more time in control of their body. You are the difference.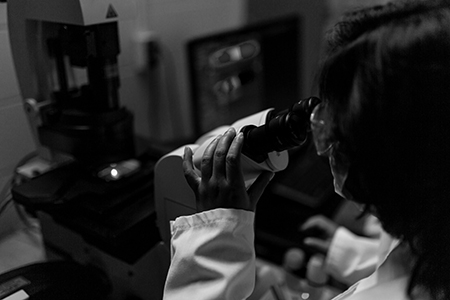 If you would like to support ALS research at London Health Sciences Centre, contact Jessica Da Silva at 519.685.8500 ext. 52627 or jessica.dasilva@lhsc.on.ca.