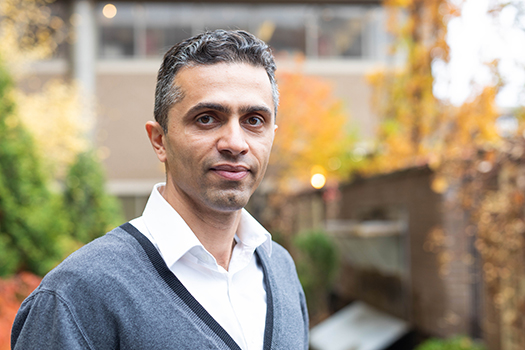 Flushing cancer away
Meet Dr. Saman Maleki, an award-winning translational immuno-oncology scientist whose out-of-the-box thinking has opened the doors for a visionary approach to cancer treatment using fecal microbiota transplantation (FMT) right here at London Health Sciences Centre (LHSC).

A novel path to recovery: Microbiomes in the digestive system can affect how each patient responds to cancer drugs and immunotherapy, and by using specific bacteria found in fecal matter – yes, poop – Dr. Maleki has found we can trigger a favourable immune response, reducing side effects and enabling more effective treatments. Once considered unconventional, he has confidently pushed forward, mobilizing this pioneering research into the "gut microbiome" and leading the way for the groundbreaking application of FMT to help improve outcomes for cancer patients.
The trailblazing Dr. Maleki
One of only seven Londoners to receive the Investigator Award from the Ontario Institute for Cancer Research (OICR), and one of only two Canadians to be selected as the Society for Immunotherapy of Cancer Sparkathon awardee.
Established LHSC's very first stool biobank, where samples are collected from both cancer patients and healthy individuals to fuel research into FMT and better understand how it can be applied across various types and stages of cancer.
Principal investigator at the Maleki Lab, a translational immuno-oncology research lab located on the fourth floor of LHSC's London Regional Cancer Program studying novel approaches in sensitizing hard-to-treat cancers to immunotherapy.
 
"At first, using fecal matter to treat cancer wasn't something that garnered a lot of buy-in, but our early research and its positive results speak for themselves. We are now at the beginning of an exciting era for microbiome research in oncology, one started right here in Southwestern Ontario, which has put us on the international stage, empowering incredible results for future patients."

Dr. Saman Maleki, immunologist & cancer biologist
Theory into practice

In 2019, Dr. Maleki conducted one of the first human trials on patients with advanced melanoma, resulting in less toxicity and an improved treatment response rate of 65 per cent (compared to the standard 30-40 per cent).
 

Reaching further

Plans to expand these trials for patients with pancreatic, kidney and even lung cancers are underway, driving a multidisciplinary effort with experts in microbiomes, cancer, immunology and infectious diseases.
 

What's next?

Dr. Maleki is committed to amplifying the impact of this research by building a fully-fledged immuno-oncology research centre at LHSC, combining the best talent and technology to drive advances as a premier centre in Canada.
If you would like to learn more or support immuno-oncology research at London Health Sciences Centre, please contact Pamela Taylor, Director of Development, London Health Sciences Foundation at 519.685.8721 or pamela.taylor@lhsc.on.ca.