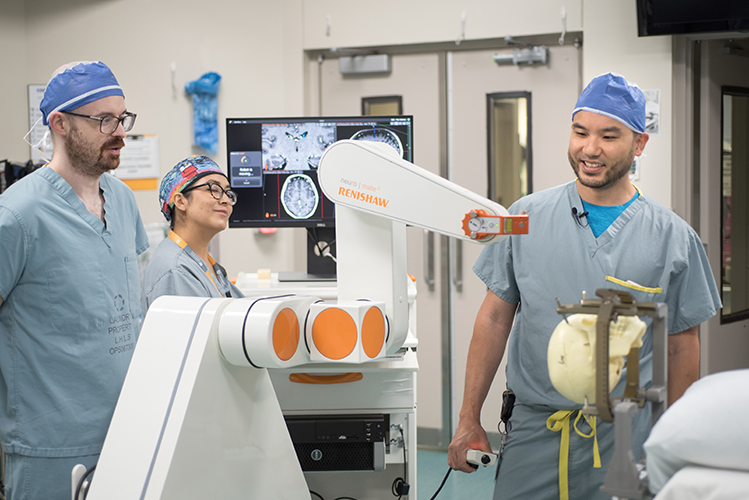 A Path to Relief 
Imagine facing the debilitating impact of epileptic seizures, the constant fear of when the next one might strike, and the prospect of undergoing invasive brain surgery to find relief. For many patients, this was the reality until London Health Sciences Centre (LHSC) took a pioneering step forward.  
The challenge? To find a less invasive, more effective way to treat seizures caused by epilepsy and restore hope to those living with it. Since 2017, LHSC neurosurgeons, Dr. Jonathan Lau, Dr. David Steven and Dr. Greydon Gilmore, have been bringing much-needed relief to patients, marking a turning point in treatment-resistant movement and affective disorders.  
 
Changing Lives, One Patient at a Time 
Deep brain stimulation (DBS) can provide remarkable therapeutic benefits for otherwise treatment-resistant movement and affective disorders such as Parkinson's disease, essential tremor, dystonia, chronic pain, obsessive-compulsive disorders and major depression. Thanks to generous donor support, the Renishaw neauromate robot provides a transformative solution, revolutionizing treatment possibilities and rekindling hope for those who previously had limited options. This innovative approach offers a new path towards improved quality of life and well-being. 
 
"Traditional approaches often fall short in providing relief, but the Renishaw robot's extremely effective treatment has led to a significant reduction in seizures for many patients. We are grateful to our donors who were inspired to invest in this life-saving equipment."  

Dr. David Steven, Neurosurgeon, LHSC 
Deep Brain Stimulation Surgery: A Game-Changing Approach 
DBS surgery involves the precise placement of electrodes in the brain, connected to a pacemaker that provides stimulation to alter brain activity, effectively alleviating or reducing patients' symptoms. Dr. Lau and his team harnessed the power of the neuromate to facilitate accurate and safe electrode placement in hard-to-reach areas of the brain. This cutting-edge technology enables individualized trajectories with minimal manual intervention, revolutionizing the field of neurosurgery.  
Impact on Patient Care 
Dr. Lau was the first surgeon in Canada to use a robot to perform DBS surgery to treat epileptic seizures  

Neuromate streamlines the diagnostic process, reducing electrode placement time from hours to a mere 45 minutes  

Groundbreaking precision has led to a remarkable 90 per cent reduction in seizure occurrences  
Continuing the Legacy of Cutting-Edge Care  
This achievement is not merely a milestone, it is a commitment to advancing medical care and improving patient outcomes. By harnessing the potential of the Renishaw robot and embracing innovation, neurosurgeons strive to help more patients and make a profound impact on their lives. LHSC plans include extending the robot's use to support patients living with dystonia, Huntington's disease and essential tremor.  
YOU CAN BE THE DIFFERENCE.
If you would like to learn more or support diagnoses and treatments for neurological disorders at LHSC, please contact Jessica Da Silva, Development Officer, London Health Sciences Foundation at 519.685.8409, ext. 52627 or jessica.dasilva@lhsc.on.ca.