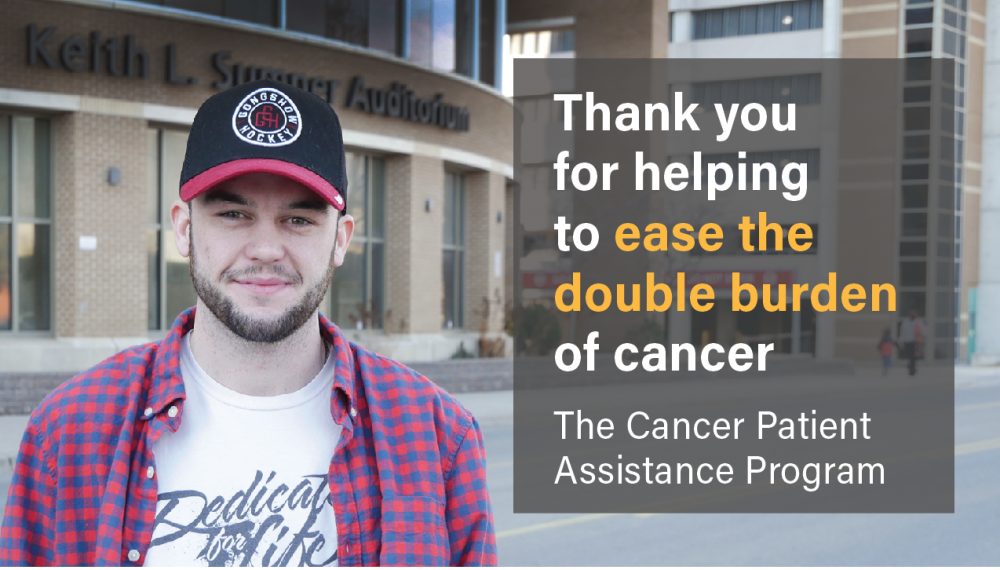 As we are seeing now more than ever, health issues are pervasive and can have severe effects on our financial wellbeing. Patients with cancer or who have battled cancer in the past are all too familiar with these financial blows.
This includes people like Dylan, who at just 22 years old would be facing thousands of dollars of debt were it not for donor funding that's helped pay for his treatment — a medication not covered by OHIP to treat his rare colon cancer. 
A cancer diagnosis is a complete upheaval of someone's life. "It kind of hits you like a wall," says Dylan. "No one really thinks they're going to get cancer." Neither Dylan nor anyone else should have to face the added burden of worrying about if they can get through cancer treatment and still make ends meet financially. 

That's why the Cancer Patient Assistance Program was created – a unique program in Ontario that's completely supported by you, our generous donors. Thank you.
The program consists of three funds:
• Gene Goodreau Patient Assistance Fund: $138,080 in funding helped 277 patients in 2019 
• Massel-Cruickshank Breast Cancer Patient Assistance Fund: $121,055 in funding helped 202 patients in 2019 
• CIBC Access Cancer Therapies (ACT) Now: Nearly $700,000 in funding helped patients afford high-cost medications in 2019

"Without ACT Now funding, I wouldn't be where I am today," says Dylan, whose medication is shrinking his tumours and has led to a dramatic increase in quality of life.

Meanwhile Kate, a patient who received funding from the Massel-Cruickshank Breast Cancer Patient Assistance Fund, is equally as grateful for the life-changing support.
"Breast cancer takes so very much from a woman… to know that people have donated from the goodness of their hearts to help those of us who are struggling shows such a kindness and reveals a true glimpse of how beautiful it is to be human. You have lightened my load and brought joy on the day of my fourth round of chemo!"
And Brian, whose funding from the Gene Goodreau Patient Assistance Fund empowered him to fight for survival. "No words will ever truly express my eternal gratitude to all the precious donors for your assistance to me!"
Thank you to our donors for making a profound impact in the lives of Dylan, Kate, Brian and so many others. These are just some of the items you helped patients afford:

If you would like to support the Cancer Patient Assistance Program at London Health Sciences Centre, contact Pam Taylor at 519-685-8721 or pamela.taylor@lhsc.on.ca. Or donate using one of the links below. 

ACT Now
Gene-Goodreau Patient Assistance Fund