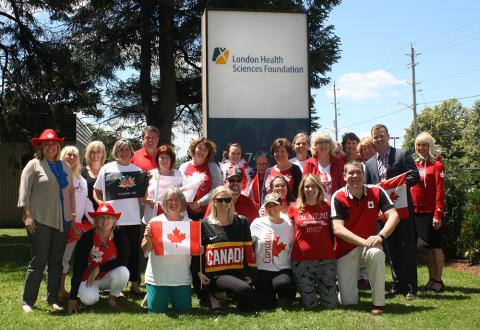 London Health Sciences Foundation (LHSF) employees have many reasons for giving back to the hospital. Some received care themselves. Some are inspired by the generosity of other donors in our community. Some had loved ones pass away from a disease and want to support ground-breaking research that will help other families. All of them see through their jobs how essential donor support is in advancing research and enhancing patient care at London Health Sciences Centre.

Though LHSF employees have been giving to the hospital since the foundation formed in 1996, an official annual staff giving campaign was launched in 2008. Every year since the launch, 100 per cent of full-time LHSF employees have supported the hospital, giving a giving a cumulative total of more than $240,000. Some LHSF employees give biweekly while others give once a year, but each and every one of them gives what they can afford – committing a total of almost $23,000 this year alone.

"I have been a donor for eighteen years and I feel so fortunate to be able to give where I work," says Janine Ogglesby, Fund Administrator. "Because I disburse donated funds to various needs within the hospital, I see firsthand the impact that a biweekly donation can make. I currently give to FEMAP (First Episode Mood and Anxiety Program) because I admire the dedication of Dr. Elizabeth Osuch and her team and what an impact their program has treating mental health in our youth."

While employees like Janine are carefully ensuring donor dollars are allocated appropriately, others are meeting with the people who are exploring the most advanced medicine and sharing their research.
"In my role at the foundation, I've had the opportunity to meet some pretty amazing researchers, physicians and staff at LHSC," says Matthew Brown, Senior Communications Specialist. "It's impossible not to be inspired by their dedication and the innovative ideas and technology they are using to improve patient care. When I give back – whether it is through payroll deduction, volunteering my time, or even creating my own Community Events – it is because I believe in those people and want to do my part, however small, to support their work."

This year, May was the focus month for the LHSF Employee Giving Campaign. Employees were acknowledged at the end of the month with a few treats from the Wellington Road Boston Pizza and Tiger Jack's, as well as with words of gratitude from LHSF President and CEO John MacFarlane.

"Our staff truly reflects the spirit of giving and philanthropy that is the very fabric of London Health Sciences Foundation," says John. "They acknowledge that with donor funding, LHSC can harness state-of-the-art technology, scientific discoveries and new treatments to advance patient care."