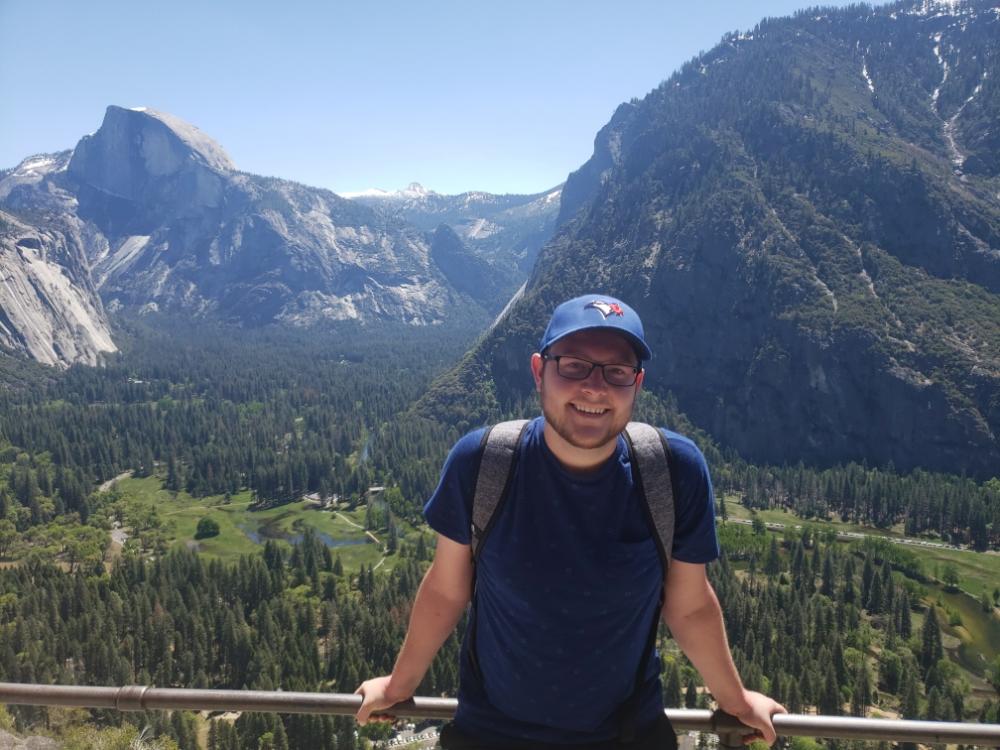 Third-year mechanical engineering student, Adam Keller, had many hopes and dreams for his future. Surrounded by friends, a loving family, and a passion for design work, his life was turned upside down on his 21st birthday. "There was quite a while where I had a lump on my neck, but I didn't think anything of it because it was not painful," Adam recalls.

It wasn't until Adam started experiencing back pain that kept him up at night which motivated him to book an appointment with his doctor. His doctor performed a series of tests and ordered a biopsy for the lump on Adam's neck. For several weeks, Adam anxiously waited to hear the results of the biopsy and when they finally came in, he was diagnosed with stage II Hodgkin's lymphoma, a cancer of white blood cells. This was unexpected and life-changing news, but the shock didn't end there. A PET scan – a nuclear imaging test -- also revealed that the cancer had spread to Adam's lower back, changing his diagnosis from stage II to stage IV cancer.
Adam's oncologist from London Health Sciences Centre (LHSC), Dr. Selay Lam, promptly increased the chemotherapy dose from four to six rounds to adequately meet the updated diagnosis. This treatment proved effective and the cancer was gone for the time being.
Adam was eight months into remission when he started experiencing chest pains and heart palpitations while playing soccer. He decided to leave the game early, and go home to rest. He was woken up by the persistent pain, and admitted himself to the emergency room at LHSC. Knowing his health history, he also reached out to Dr. Lam, who promptly ordered another PET scan to further monitor his health.
Unfortunately, the PET scan brought bad news once again. The cancer had re-emerged and was stronger than before.
A mass was revealed surrounding an artery that led into his heart. His oncologist immediately prescribed a higher dose of chemotherapy, followed by a stem cell transplant which replaced his unhealthy blood-forming cells with healthy cells. The rigorous treatment took place over Christmas of 2017 and Adam was closely monitored for two weeks before he was allowed to leave the hospital. During that time, it was his closest family members, friends, and the nurses and staff at LHSC that kept him in good company.
Due to the initial size of the mass in his chest, Adam underwent twenty sessions of radiation therapy at the London Regional Cancer Program (LRCP) at LHSC. Under the care of Dr. Joanna Laba, a laser was used to target the area to ensure that any remaining cells were eliminated.
Since then, Adam has had some ups and downs, but has been successfully in remission. "Ever since chemo I've been super aware of anything I am feeling since there are a lot of side effects from the medication, and obviously it can come back," Adam says.
Thanks to the continued vigilance and care of Dr. Lam, Dr. Laba, and the hospital staff, Adam has been in good health, has been able to graduate, and continuously receives the support he needs to keep pursuing his goals.
Adam's journey has not been easy, but he recalls the compassionate and dedicated staff at LHSC's London Regional Cancer Program and the outstanding and genuine care they provided. He describes the staff as: "Always so concerned about how you're feeling...They genuinely care about what they can do to make you feel better. I have nothing but good things to say."
Through the generous and ongoing support of community members, we can continue to raise money for blood cancer research and care at LHSC to ensure that patients like Adam have the opportunity to see their dreams realized.