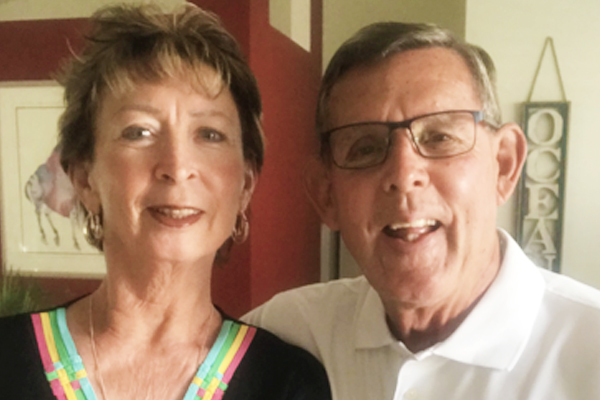 Cancer doesn't discriminate. It's a disease that can affect anyone at any age regardless of their profession, gender, or if they are seemingly healthy. As an operating room (OR) nurse for the last 30 years, Betty Ostrander knows this fact. Yet upon hearing her own cancer diagnosis, she was left nearly falling out of her chair, shocked. 

It started in November 2016 when Betty and her husband, Harry, were in Florida for the winter. She noticed a small lump on the right side of her throat. When it didn't subside after a few days, Betty's medical-oriented mind knew it was time to go to the clinic. 

"I saw the nurse practitioner (NP) and she said, 'well, you're really healthy. I'll give you ten days of antibiotics and see how that works for you.' I said to her, 'how about an ultrasound?" Betty recalls.

The NP signed the requisition for the ultrasound and after five days of antibiotics with no relief, Betty went in for the imaging scan where they discovered two enlarged lymph nodes.

Working in a Florida hospital OR at the time, Betty asked a colleague (a surgeon) for advice on what to do next.

"He said I need to see an ear, nose and throat (ENT) doctor, and he then made arrangements for me to see someone in Florida. When that doctor examined me he said, 'well, you're really healthy. I can't imagine there's anything wrong,'" said Betty.

The ENT doctor conducted a scope and needle biopsy of Betty's throat. The scope results were normal, but when the results from the biopsy came in the next day – it showed malignant cells.

Determined to find exactly what was going on in her body, Betty asked the doctor to arrange a PET scan before she headed back to Canada. A PET scan is an imaging test that illuminates abnormal cells and organs. The results of this scan showed the cancer was located exclusively in her neck area.
"I was devastated. Totally devastated. For being somebody that used to jog and then went to a brisk walk as I got older, I was doing three to five miles a day, and we eat very healthy. To be told I have this – I thought you have to be kidding me," said Betty.
On January 5, 2017, Betty and Harry arrived back in Canada and began consulting with doctors in Woodstock. Two weeks later, she had another biopsy surgery which led to the removal of her right tonsil where the primary cancer was. Betty was then examined by London Health Sciences Centre's (LHSC) cancer care team, which included Dr. Anthony Nichols, a surgeon in the oncology department who is also the director of the head and neck cancer research team.

"He was wonderful. He listened to me, he gave me ample time to ask questions, and let me tell you I had lots of them. He patiently answered them all," describes Betty.

Throughout the diagnostic process and surgery, Betty conducted her own research – scouring for any information that may lead to her successful outcome.

"I was on the internet at two, three, four o'clock in the morning. I couldn't sleep. I was trying to educate myself to try and figure out what's going to happen to me," recalls Betty.

Her determination and inquisitiveness led her to ask Dr. Nichols about participating in a clinical trial that ran from February to April 2017. The trial was randomized and tested the quality of life for patients who received radiation treatment before or after surgery.

Betty's experience as a nurse helped her throughout the trial. She knew and understood what to expect, and prepared herself for it.

"[Staff] were open to my suggestions such as lollipops to help with mouth sores and the idea of offering at a cost to patients a drug that helps with the buildup of mucus," Betty explains.

Betty also had a great support system at home. Each step of the way – from diagnosis to treatment – her husband, Harry, was by her side. Married for 30 years and a cancer survivor himself, Harry knows how precious life is and doesn't take it for granted.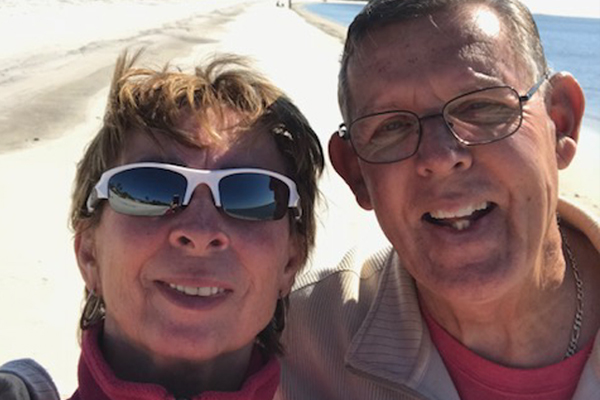 Today, the couple enjoys their time travelling the world thanks to the continued support from doctors, nurses and staff at LHSC. The excellent care and services Betty said she received also led her and her husband to become philanthropists. Together, they generously support patients through the Patient Assistance Fund which helps relieve the financial burden for those going through cancer treatment. They also donate to the cancer research team to help find new ways to treat patients with head and neck cancer – currently one of the fastest growing cancers in North America.
"We were amazed by the prompt, courteous attention that we were given throughout the whole treatment period. There is a need for public donation to help fund the hospital system and there's needs at LHSC so that the professional services can continue and grow, and to continue the research that needs to be done to find a cure," explains Betty.
Now, Betty and Harry are taking life by the horns. They are focused on continuing to live a healthy, happy life, making memories together and spending time with family.
"Every day is a gift. I am very blessed and I put my head on the pillow every night and say, 'thank you,'" says Betty.