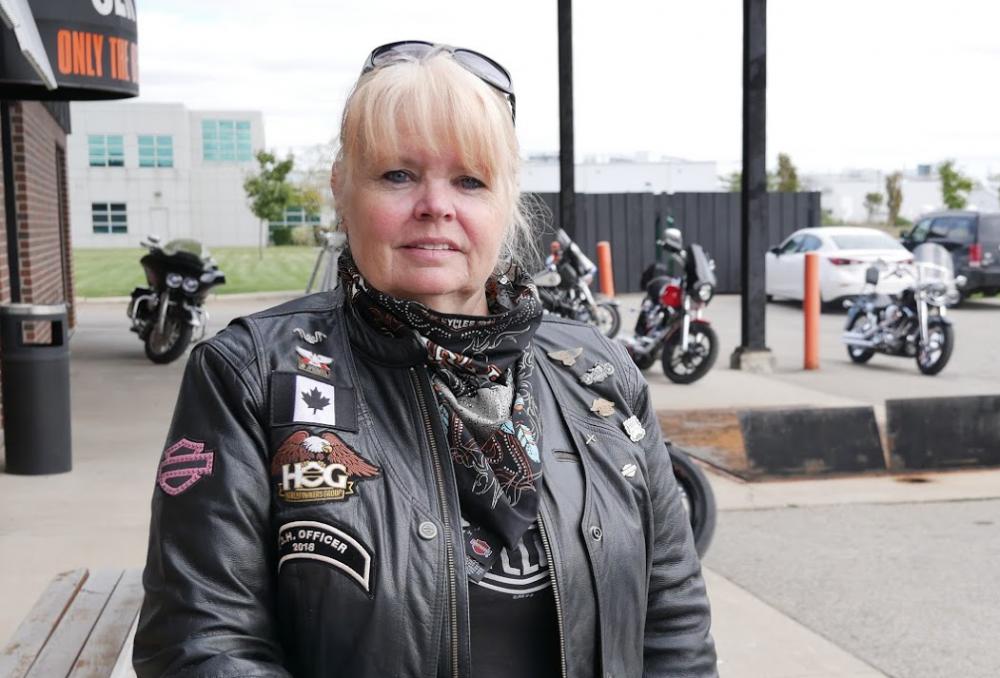 It's a brisk early fall day in South London when the sound of distant highway traffic is punctuated by the telltale engine growl of a pack of Harleys. A group of leather-clad bikers is arriving back to Rocky's Harley Davidson from a charity ride that took them across the region in support of financial assistance for breast cancer patients. The event is aptly titled Bikers for Boobs.

"We wanted to catch the guys' attention with this event – there are a lot of male bikers," says Darlene Reparon, the Ladies of Harley Officer for the Forest City HOG (Harley Owners Group) chapter. "So we figured the catchy phrase and poster would draw the men."
Darlene's plan proved successful. Dozens of men and women came out for the "poker run" in which riders picked up cards at each checkpoint (their poker hand) before enjoying a lunch, raffle and silent auction all in support of the Massel-Cruickshank Breast Cancer Patient Assistance Fund at London Health Sciences Centre.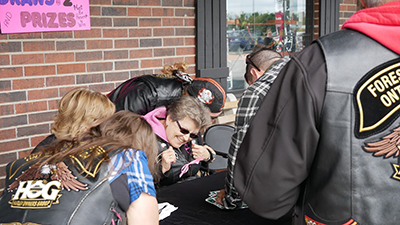 Darlene herself has battled cancer twice and knows how difficult it can be to undergo treatment.

"I'm among many people who have had cancer of some sort," she says.  "So we do these events to help those people."

Bikers for Boobs is the second in a series of biker events in London for breast cancer patient assistance. Each spring, Rocky's Harley Davidson hosts the Ladies Only Garage Party fundraiser – a fun night out where women can get the feel for riding a Harley (while it's stationary), enjoy food and friendship, watch a fashion show featuring London firefighters,  receive hair extensions and even get a real cancer awareness tattoo if they wish.

Christy Freeman, the MotorClothes® Manager at Rocky's Harley Davidson, says the cause resonates with many of her customers.

"We sell head wraps and bandanas so we see a lot of cancer patients in looking for headgear," she says.
Christy is also no stranger to life-changing effects of cancer, having witnessed one of her closest friends be diagnosed, treated, and receive a double mastectomy for Stage III breast cancer at only 33 years old.
"There's so much that patients have to deal with and we like to support this cause because we know the money is directly helping patients," Christy says.
"We're like a family in the biker community so we rally around causes," adds Darlene.  "That's just what bikers do."
Stay tuned for details on the next Ladies Garage Party and Bikers for Boobs, which will be available on lhsf.ca/events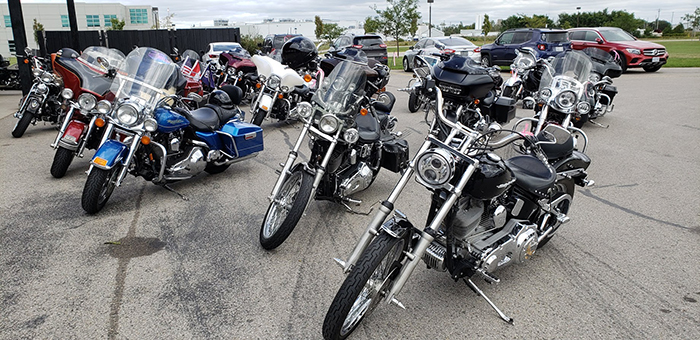 ​