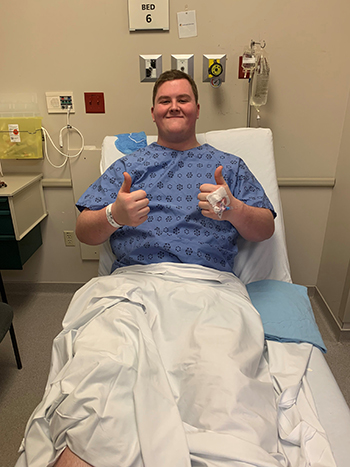 Cameron Smith played football for years, in excruciating pain and limited hip mobility - little did he know, he had an undiagnosed condition known as hip impingement, resulting in torn cartilage. But luckily, last year, he went to Fowler Kennedy Sport Medicine Clinic for help.

Now, six months after his second surgery, Cameron is happy to say he's going to play as an offensive lineman for St. Francis Xavier, without the pain he'd lived with for as long as he could remember. "I couldn't be happier with my treatment and two surgeries done at Fowler Kennedy. Every day I felt better and I have Dr. Ryan Degen to thank for that," he said.

Cameron's lived with hip pain since he was a kid. He started to play for McMaster University as an offensive lineman in the Fall of 2017, pushing through the pain to get on the field. He worked hard, stretching and exercising, thinking the extra effort would help with his hip pain and mobility issues, and just ignored how it felt. "After a while you get used to the pain and, playing university football, that's something that comes with the territory for sure. But, the frustrating part was my hip mobility was really poor," he said. "I had zero degrees of internal rotation on both of my hips, so that was really limiting for football."
At the end of his first year at McMaster, he had x-rays done in Hamilton and it was found that he had hip impingement, a condition that causes cartilage damage due to improper contact between the ball of the femur and the socket of the pelvis. Cameron was advised by team doctors that physiotherapy and stretching could help and allow him to continue to play. So, he worked harder.
But Cameron hit a point in late 2019, where he knew something was wrong and wasn't being addressed. So, halfway through his third season of playing football for McMaster, Cameron was referred to see Dr. Ryan Degen at Fowler Kennedy.
"He took everything I said seriously. He trusted that I knew what I was talking about with my own body," Cameron said. Dr. Degen told Cameron that the hip impingement was significant and that the labrum both of his hips, which are rings of cartilage that follow the outside rim of a hip joint, were torn.

"It was almost kind of a relief to hear because there's something that can be done to fix it." Cameron said. Dr. Degen told him that he needed surgery on both hips to repair the labrum and remove extra bone that was causing the issue in order to prevent future injury.
Cameron's first surgery was in January of 2020 and his second in late February. He wasn't worried about going into surgery. "Dr. Degen made me feel super confident that this was something that I could come back from, that I could keep playing football," he said.
Although COVID-19 arrived and Fowler Kennedy was forced to temporarily close its doors, that didn't stop Cameron's recovery. With Dr. Degen's help over the phone and Fowler Kennedy's rehab information on its website, Cameron completed his rehab work at home, on his own. "I couldn't believe how easy the recovery was," he said. "Obviously, it takes time and everything, but in terms of pain management and progress and mobility, I honestly don't know if I had any bad days after the surgeries. Dr. Degen treated me well and I couldn't be more thankful for what he did for me."
Dr. Degen continues to monitor Cameron's progress, but his future on the field looks great. The decades of pain he'd lived with was gone very quickly. "Within 36 hours of the surgeries, my hips felt better than they ever had beforehand," he said. "I'm excited to finally have this done and to spend a couple of years left in university playing the best football that I can. I just want to play football."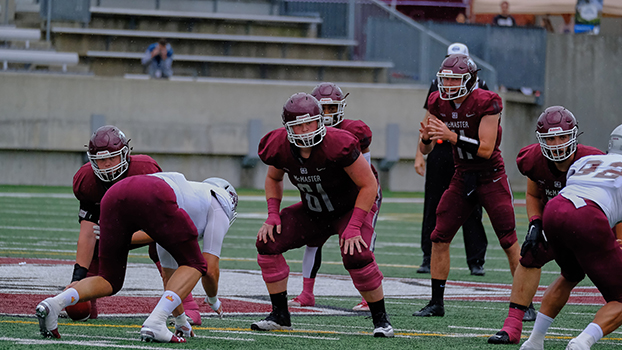 Cameron's on the move already, in Nova Scotia playing on St. Francis Xavier's offensive line this fall. And he's thrilled with his recovery and progress. "I just couldn't be happier with my experience. I'm going to be playing football again and I have Dr. Degen to thank for that," he said.
Fowler Kennedy Sport Medicine Clinic is focused on providing enhanced patient care to help people return to their healthy active lifestyles post-injury. Donors play a vital role in funding state-of-the-art technology and equipment as well as education and research, which provides world-class care to patients like Cameron