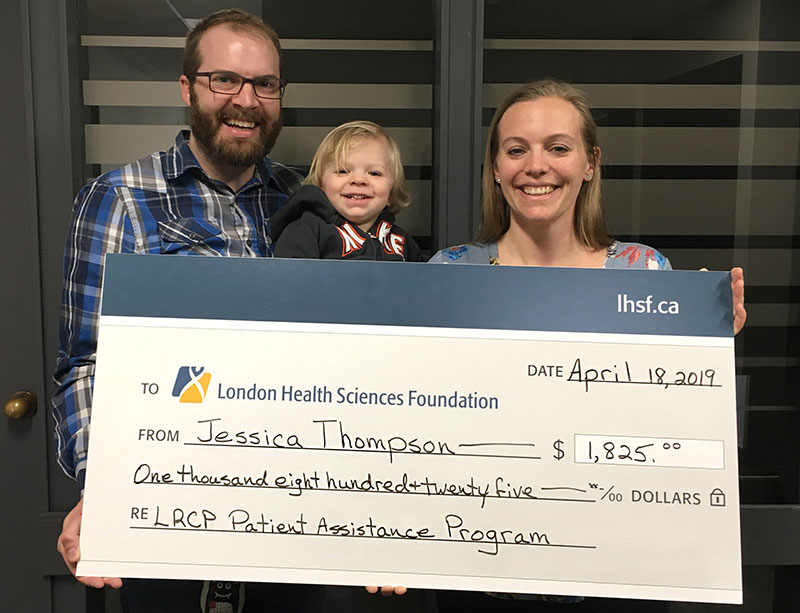 Celebration Giving

Jessica Thompson of Sarnia was just 24 years old when she noticed a lump on her stomach.

She didn't think much of it at first, but it grew so quickly within two months that people began to ask her if she was pregnant.

Knowing this was not the case, Jessica went to her local health unit, where they performed several tests and sent her for an ultrasound and a CT scan at the Sarnia General Hospital. The results of the scan confirmed her fears: Jessica had ovarian cancer.
Thankfully, her care teams in both Sarnia and London sprang into action to help Jessica. Only a month went by between her initial visit to the Sarnia clinic and surgery with Dr. Monique Bertrand at LHSC's Victoria Hospital to remove the tumour.
"They took me as a high priority and were very quick, which was wonderful," Jessica says. "They really made time for me in the operating room."
After her surgery, Jessica met Oncologist Dr. Stephen Welch, who worked with Jessica to come up with a chemotherapy treatment plan.
"He was so honest and I didn't doubt that he had my best care in mind," Jessica says.
Jessica spent the next year undergoing cancer treatment. Because she lived in Sarnia, she spent a significant amount of time living on the seventh floor of LHSC's London Regional Cancer Program (LRCP), which would have taken a toll on Jessica's mental health had she not been so focused on her end goal of getting through treatment and returning to school. Despite the severity of her disease, she said "it never really crossed my mind that cancer was going to stop me."
Ever determined, Jessica did not want to lose momentum while pursuing her accounting degree at the University of Windsor. She took a few online courses from her hospital bed during the spring semester, despite her body being pummeled with chemo. When it came time for the fall semester, Jessica was ready to go back, even though she was still going through active treatment. She carried disinfectant wipes wherever she went and steeled herself for the onslaught of germs that inevitably populate university classrooms.
Her last day of treatment and her first day officially cancer-free was January 9, 2009.
Fast-forward a decade later to her 10-year "cancerversary" – an important milestone that Jessica marked by raising money for the Patient Assistance Program at LRCP.
"I always knew I wanted to do something when I hit 10 years," Jessica says. "And I like that this fund helps patients going through treatment now. Things like child care, wigs and transportation –something I dealt with while commuting to appointments – these can add up to become quite expensive."
Jessica's initial goal was to rally her family and friends to raise $1,000 for the program. She was able to far exceed her goal and raise $1,825. Her company generously matched 50% her donation, bringing the total to more than $2,700.
"I'm so happy with the results, and for the ability to spread some awareness about ovarian cancer, which is a silent killer," Jessica says. "It's important that people look for the symptoms."

Thankfully, Jessica went through the worst of it in 2008 and her cancer has not returned. She now lives in Oro-Medonte and returns to London once a year for her annual check-ups.
June 2017 marked an emotional and momentous occasion for Jessica. Though treatment for ovarian cancer can often lead to an inability to have children, Jessica gave birth to a healthy baby boy on June 7th and welcomed their second child in November of 2019!
Thinking back on her time at the hospital, Jessica recalls a key factor that helped keep her going:
"People in the hospital don't look at you like you're a sick person – every person in there is so much more than just a patient."