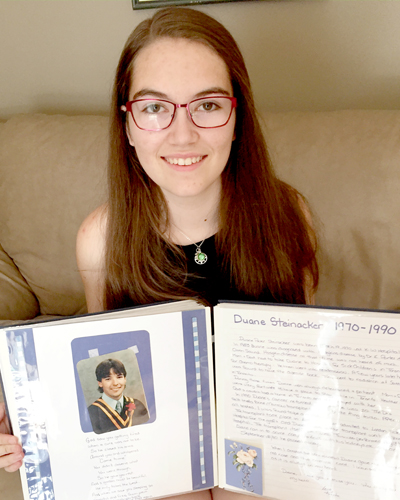 Growing up, 18-year-old Kendra Klages from small-town Tara, Ontario, has always been told she's just like her Uncle Duane. Smart, witty and kind-hearted, Kendra takes this as a big compliment, especially knowing she will never meet her uncle.

In 1990, before Kendra was born, Duane Steinacker passed away at the age of 20 from Hodgkin's Lymphoma – a cancer that originates in the lymphatic system and affects the disease-fighting network throughout the body.

Kendra's mother Krista was just 15 years old at the time her brother passed. According to Kendra, her mother still remembers his captivating personality and what it was like to donate her bone marrow to him; being the only match in the family.

"He had a tough battle to fight and [London Health Sciences Centre] did everything they possibly could to make him cancer-free. Sometimes, though, it doesn't matter how hard you try, some things are just not possible to fix," states Kendra.

Duane's death not only impacted the Steinacker family, it was an emotional loss for the entire community of Tara, whose population is just over 1,000.

Since Duane was an avid hockey player, the community honoured his memory for many years through the "Duane Steinacker Memorial Hockey Tournament", which raised money for the Multi-Organ Transplant Program at LHSC. 
The final tournament was held four years ago.

"The tournament ended because it got to the point where the players had no clue who they were playing in memory of – just the volunteers did," says Kendra. "It didn't mean as much anymore." 

Wanting to keep Duane's memory alive, Kendra generously decided to use her 18th birthday as an opportunity to ask family and friends to make a donation in lieu of gifts in honour of the uncle she never knew, but was so much alike. 
"No one had donated in his name for a while and that means that program had lost donations," says Kendra. "That's an important one to donate to because so many people need transplants."
Kendra began by asking her parents for a donation, then grandparents, godfather and friends. Her goal was to reach $300 in donations for her birthday. Eventually, word spread around town, and on the week of her birthday, she was amazed by the generosity of the community. Kendra had more than doubled her goal, reaching $665.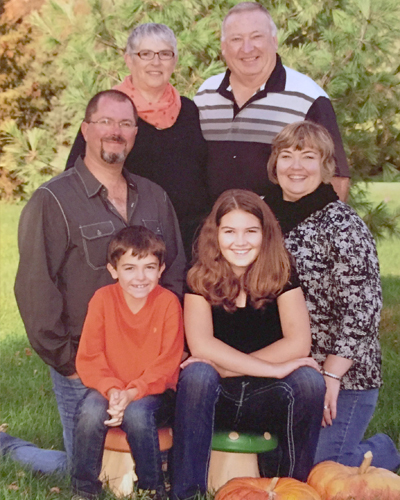 "I really hope that someday, with the help of donations and research, we will find a permanent cure for cancers of all types. I do not want families to have to go through what my uncle and his family went through," says Kendra.

Kendra hopes she has inspired others to donate for their birthdays too. She believes donations don't necessarily have to benefit cancer or transplant, but that they should go to something that helps others in need.
"I like helping other people, I always have," says Kendra. "So I'm glad that even if they don't know me, I'm still helping somebody."