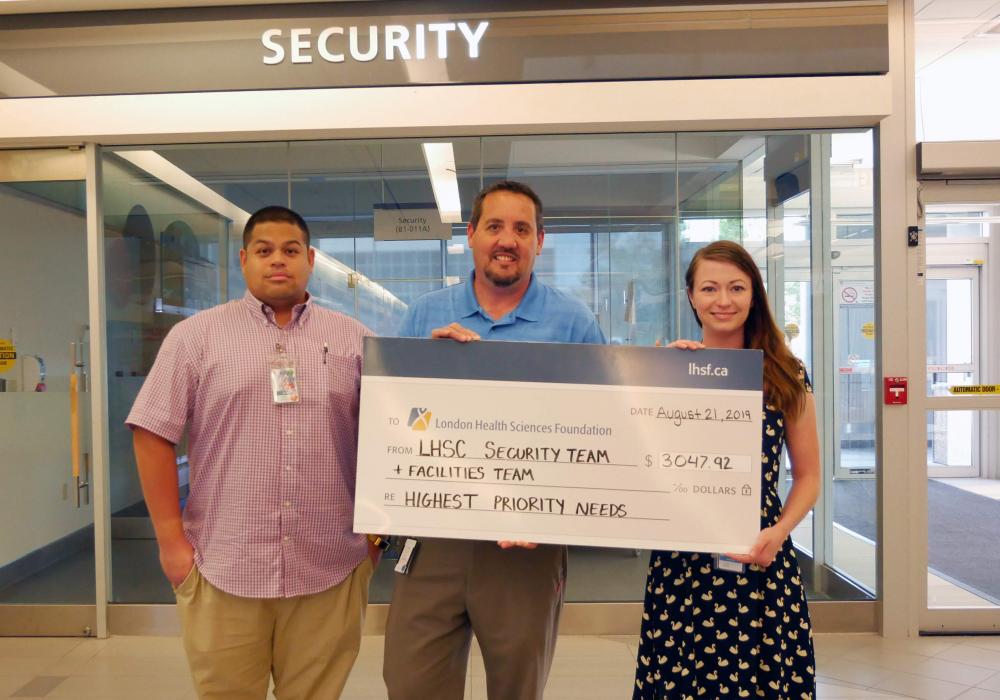 The security and facilities teams at London Health Sciences Centre have teamed up to make a difference with a new initiative, donating over $3,000 to the highest-priority needs at London Health Sciences Centre (LHSC).
In the past, unclaimed lost and found items from around the hospital would often end up in the trash. Now, they are being used to make a difference at the hospital, in the London community, and around the globe.
It all began with a meeting early in 2018. The two teams were discussing what to do with items left behind in lockers when staff members left the organization. Taylor Maris, a newer member of the facilities team, suggested the idea of donating the items to Goodwill, as long as they were in decent shape.
That's when a light bulb went off for Jeff Langford, who was also in the meeting. He pulled Taylor aside after the meeting and proposed the idea of doing the same with items from the hospital lost and found.
"I imagined a small Lost and Found box with a couple items in it, not a huge amount," said Taylor, "but I was wrong."
Items come from everywhere in the hospital and are stored in a room with its own detailed cataloguing system. Some are found in patient rooms, and naturally are easier to return to their owners. Patients and their families are contacted and informed that their items are available for pick-up at the hospital.
Other items are left behind in waiting rooms and are nearly impossible to return without knowing who owns them. Either way, lost items remain in the designated lost-and-found room for at least 6 months, and if they remain unclaimed, they become eligible for donation.
Less than a full year since Taylor and security guard James Torrefranca began the donation program, they've achieved some remarkable results, and many items that would have once wound up in landfill are now finding their way to important causes.
Clothing items that are left behind are donated to Emergency Department and Mental Health patients. Over 650 pounds of clothes have been left behind, sent to LHSC's Linen department for cleaning, and then donated to make sure no patient leaves the hospital without proper clothing.
63 pairs of eyeglasses and sunglasses have been donated to the Canadian Lions Eyes Centre, where they deliver these much-needed items to people in Africa, the Philippines, and throughout the Caribbean.
Rather than winding up in landfills, over 520 pounds of assistive devices – walkers, crutches and other equipment – have been delivered to the London Consistory Club and Goodwill. LHSC is unable to make use of these devices due to regulatory requirements.
Any gift cards are checked for a remaining balance online, and if they have any money left, are delivered to the Ronald McDonald House.
The Security and Facilities teams keep all cash, electronics and jewelry for a longer period of time – at least one year – before liquidating them and donating the funds to the LHSF. Jewelry is sold to a gold buyer and electronics are brought to Wireless Warehouse before all the cash is tallied up.
In September of 2019, the teams donated more than $3,000 to the highest-priority needs of our Hospital.
"I just think it's always good to give back," said James, "especially to areas that are lacking in funds."
"This synergy and collaboration between Security and Facilities is truly remarkable," he expanded. "Representatives from both entities have been able to work together to keep waste out of the landfill while donating gently-used clothing and funds obtained from fair-value transaction to the foundation and to other charitable organizations."