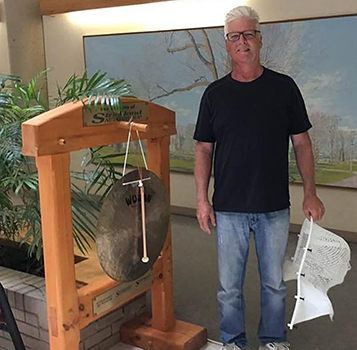 When Randy Bowden lost his taste buds, he says it was one of the lowest points in his life.

It may seem like an insignificant side effect, given other complications that can come with cancer treatments. Yet to someone who cared so much about food, it was worse than the cancer diagnosis itself.

"Even when I found out I had head and neck cancer, it was not as bad as when I found out that I could not taste anything," he said, recalling the sadness he felt. "And they couldn't tell me when it was going to come back or if it was going to come back."

After many failed attempts to 'burn' back his taste buds with the hottest hot sauces he could find, Randy began feeling depressed and anxious.
Around eight months prior, Randy had a pimple under his ear that wouldn't go away, so he went to a dermatologist to have the blemish removed and tested.
The tests by the dermatologist came back inconclusive, so Randy was referred to Dr. Kathryn Roth, a head and neck specialist, for a biopsy to get a better idea of what had caused the bump. 
Dr. Roth decided not only to remove more skin cells but also to take a few lymph nodes out of his neck. Cancerous cells were identified in one of the three lymph nodes she removed, and a follow-up operation with Dr. Anthony Nichols at London Health Sciences Centre's (LHSC) Victoria Hospital was scheduled.
Dr. Nichols removed several more lymph nodes, as well as a saliva gland, and found more cancerous cells. Randy was diagnosed with Stage III Melanoma, an advanced form of skin cancer. His medical team recommended a treatment plan that involved radiation followed by chemotherapy.
"It was scary at the beginning because we didn't really have anyone to talk to about it," remembers Randy. "We didn't expect the radiation and didn't expect the chemo; we just figured 'remove this, and you don't have anything else.'"
Treatment began quickly for Randy, and like many cancer patients, the radiation left him in pain, and with burns along his neck. "I lost so much weight, I felt so sick, and it was beginning to be too much," he recalls. "There are times that you just want to quit." 
However, Randy persevered through one month of radiation treatments - receiving 20 treatments - before beginning chemotherapy in August of 2018.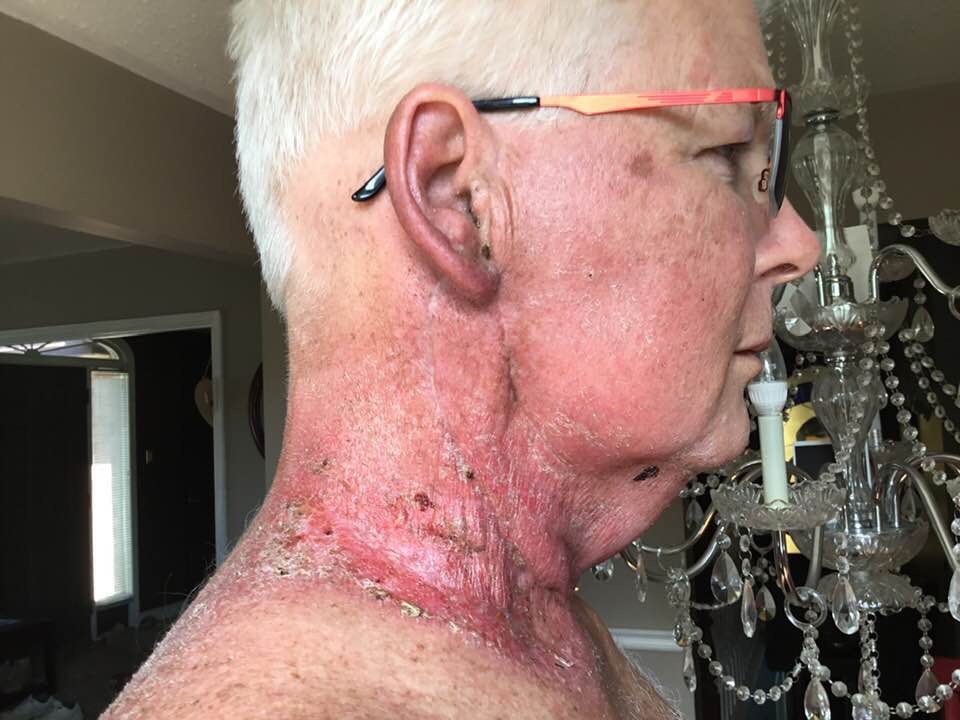 Radiation often leaves burns, and can cause scarring.
The chemo was not without its side effects, it left Randy feeling sick and tired. There was a better, less-invasive drug available, but it is typically reserved for patients with Stage 4 Melanoma. Thanks to repeated applications to the pharmaceutical company by his oncologist, Dr. John Lenehan, Randy was eventually approved for the drug.
This past June, thanks to the incredible work of the dedicated doctors at LHSC, Randy's scans came back showing no signs of cancer. 
Now, Randy is spreading a message of hope for those who may be going through an experience similar to his.
"I'm just so happy that everyone who I've interacted with [throughout my diagnosis] has always been so great," said Randy, reflecting on the past two years. "I think if people knew what I went through, they wouldn't be so anxious and afraid. It's been a very good experience if you can actually say that about having cancer."
Thankfully, Randy has also regained all of his taste for food and can finally enjoy meals again with his wife Maria. Randy's loss of taste is a common, yet often overlooked, side effect among patients with head and neck cancer. Side effects that affect quality-of-life, such as this, are a focal point for research at LHSC. That's why the head and neck department is committing up to $500,000 of their own money to match donations to advance this life-changing research. 
You can help patients like Randy by supporting vital head and neck cancer research.
Donate Today.