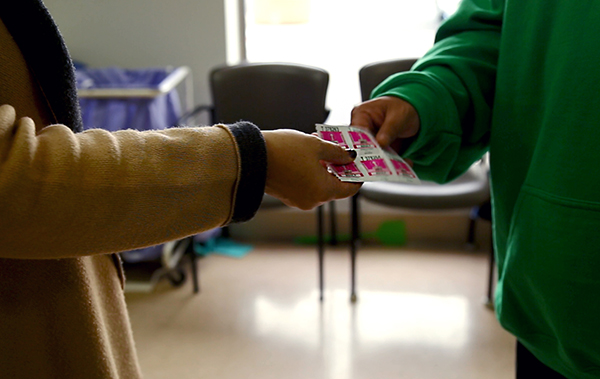 When Andrew moved to London from Mississauga to care for his 67-year-old aunt who has Alzheimer's disease, he found himself in an unpredictable and sometimes chaotic environment. He faced daily responsibilities of housework, cooking and grocery shopping in addition to being on high alert in the event she compromised her own safety, like leaving the stove on. Eventually, Andrew felt overwhelmed and exhausted with no time to pursue a life outside of caring for his aunt.

"There's a huge strain on me. There's so many things I desire to do like have a job. But there are needs at home because my aunt needs to be cared for 24/7."

Eventually, the stress of caring for his aunt and being in an unstable environment triggered a pre-existing mental health condition, which led Andrew to seek medical assistance. Andrew was referred to the PEPP Program (Prevention and Early Intervention Program for Psychoses) at London Health Sciences Centre. There he received professional help to manage his mental health while his older brother took charge of looking after their aunt.

"I have to also take care of myself and consider where I'm going to be in my future, even though I need to take care of her now," said Andrew.

PEPP is a community-focused mental health program offering a wide variety of support including employment counseling, recreation groups, education and more for individuals experiencing mental health challenges. Those within the program, who are in financial hardship and require short-term, emergency funding, can also find some relief through the Patient Assistance Fund.

The Patient Assistance Fund is entirely donor-funded. It helps provide items like meals, child care, transportation, activity passes and more when funding from other sources and services is not available. Without funds to cover their costs, some patients may choose to discontinue treatment – leading to relapse or worsening health. For patients like Andrew, the ability to take public transportation allows him to attend the PEPP Program and find relief from the strain of caring for his aunt.

"The PEPP Program gives you wiggle room to leave all those responsibilities at the door. It's a good environment that gives hope and motivation. With the bus tickets, it gives me legs to move around. Otherwise I'd just be stuck at home," Andrew explains.
Time is precious to Andrew. Although his brother intermittently relieves him of his responsibilities, he can't always be there. Using the donor-funded bus tickets, Andrew is able to get to the social gatherings to talk about his issues and make new friends. It also allows him to "recharge his batteries."

"I've come to depend on the PEPP Program for predictability after being in a constant environment of not knowing what's going to happen next," says Andrew.

Grateful for the front-line workers within PEPP for their inspiration and guidance, Andrew hopes to someday pay it forward by getting a job and donating to the program that helped changed his life.

"Thank you to anyone who is going to donate to this cause because you make such a huge impact on people's lives."