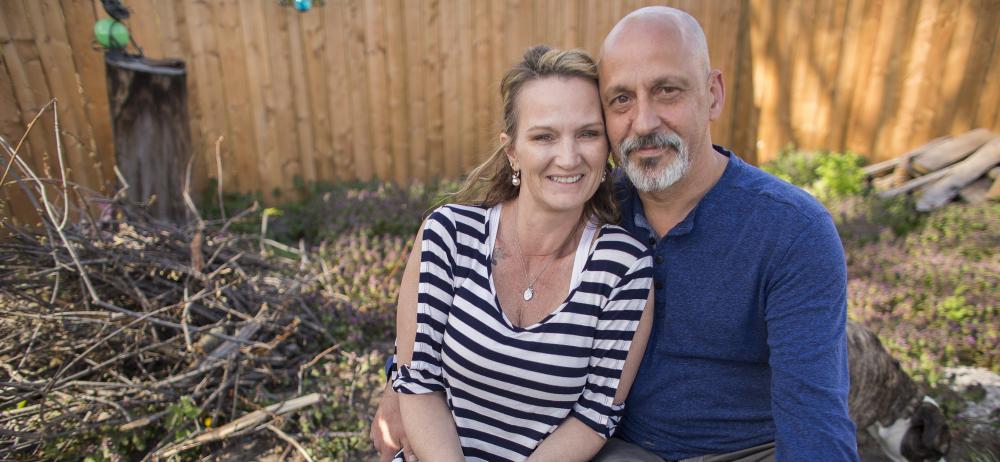 What began as a regular workday for millwright Gino Ianni suddenly became the worst day of his life. A portion of the 1,200-pound piece of equipment he was installing fell over, crushing his leg. Within minutes, he was in an ambulance on his way to LHSC.
"I was in a lot of pain. I thought I just had a broken leg," he says. "I didn't know how serious it was until the resident said, 'Your injury is beyond me. You need my boss and we're pulling him out of surgery.' Then I was scared."
Dr. Abdel-Rahman Lawendy performed an emergency procedure to save Gino's leg. The muscles had already started to die and the risk of losing his leg was imminent.
Gino emerged from surgery with a reconstructed lower leg – but he quickly realized that life as he knew it was over. His leg was painful and his mobility was so limited that it took half an hour to get to his beloved backyard workshop. It didn't take long for post-traumatic stress and depression to take hold of this once happy and hard-working man.
"I was always the fixer, the go-to guy, but I wasn't that guy any longer," he says. "It felt like my life was taken away from me."
Little by little, over the course of almost two years of physiotherapy and healing, Gino's health and mobility improved. His injury had affected every part of his life – the physical, mental and spiritual. He began the journey to remake his life.
He and his wife Kelly started to travel again. They also decided to move and custom-designed and renovated their new home to begin their new way of life.
Now, Gino sees the worst day of his life as a wonderful gift of strength and resilience. "I know that as long as Kelly and I are together, there's nothing we can't tackle."
"I was scared. There was a chance I could lose my leg."
-- Gino Ianni