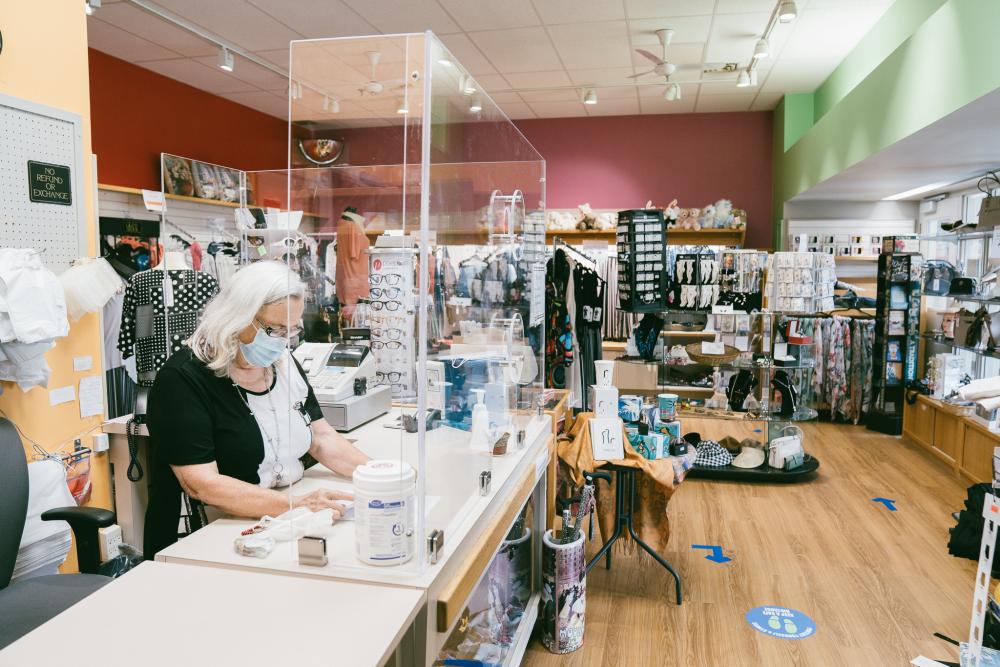 To say the LHSC Auxiliary has made an impact on health care in London would be downplaying a near-century-old institution dedicated to supporting patients at our hospitals. Yet, few people know of its existence. Fewer still know the role it plays or the needs it helps fulfill.
In the mid-1920s, what began as the Women's Auxiliary Board of Victoria Hospital consisted of about a dozen members who offered their assistance in a variety of ways. From sewing towels and diapers, to delivering flowers to patients on the wards, the organization has always been an essential part of the care people have received.
Today, the LHSC Auxiliary has grown to some 135 volunteers, and is probably most recognizable through running its five gift shops spread across both Victoria and University Hospital or the HELPP Lottery. And while it may not have started as a fundraising entity at first, the Auxiliary is responsible for millions of dollars' worth of support toward some of the highest priority needs at LHSC.
"I'm truly amazed at the number of people who don't know about us," says LHSC Auxiliary president, Lyn Harrison.
And with fundraising achievements like the $5 million for the Women's Program or the $1 million for the Mental Health Transition Age Program, it does beg the question: how does something this impressive go unnoticed?
"After expenses, every dollar spent at our shops goes right back into supporting LHSC," Lyn says proudly.
Since LHSC provides the space for the Auxiliary to operate, and the Auxiliary is run almost entirely by volunteers—Lyn admits they do have one paid bookkeeper— apart from product replenishment, there is little overhead. Whether it's a plush stuffy for a new family member or jewelry and seasonal apparel, each shop has unique selections to choose from. In a way, every purchase is someone's joy; their compassion; their well-wishes to others that fuels this fundraising gem.
Now, with its 100th anniversary just on the horizon, the Auxiliary is planning to celebrate 2024 by completing its pledge of $2.24 million toward Dr. Richard Kim's Personalized Medicine Program. Having already provided thousands of patients with pre-treatment testing to inform their care, Dr. Kim is confident expanding this process into other areas of specialty will save more lives while at the same time reducing the strain on our healthcare system.
With the finalization of its current pledge, the Auxiliary will have raised $10 million since 1985. So, why don't people know about it? It could be because, by its very nature, the organization is something of a humble endeavour. The volunteers who run it are people committed to improving health care in their community. They don't want glory and they don't want kudos. In their friendly, quiet little niches of the hospital, offering bouquets of trinkets and tokens, they just want to do their part for a healthier future.
"Our volunteers are very dedicated," Lyn says. "The fact that so many are ready and willing to come back, even after the pandemic, speaks volumes to their character."
As most people can relate, the pandemic has taken a toll on the Auxiliary. But despite whatever challenges over the last two years, they were still able to meet their pledges of $250,000 in both 2020 and 2021, respectively. Combined with other fundraising efforts during that time, the Auxiliary contributed a total of $570,000 toward enhancing care at LHSC.
The LHSC Auxiliary continues to be a vital source of support, helping drive the innovation in care actively being pursued and improved at our hospitals. So, should you venture past any of the gift shops at LHSC, consider, for a moment, the countless thousands of people who have benefitted from better health care simply because of the kindness we show one another.