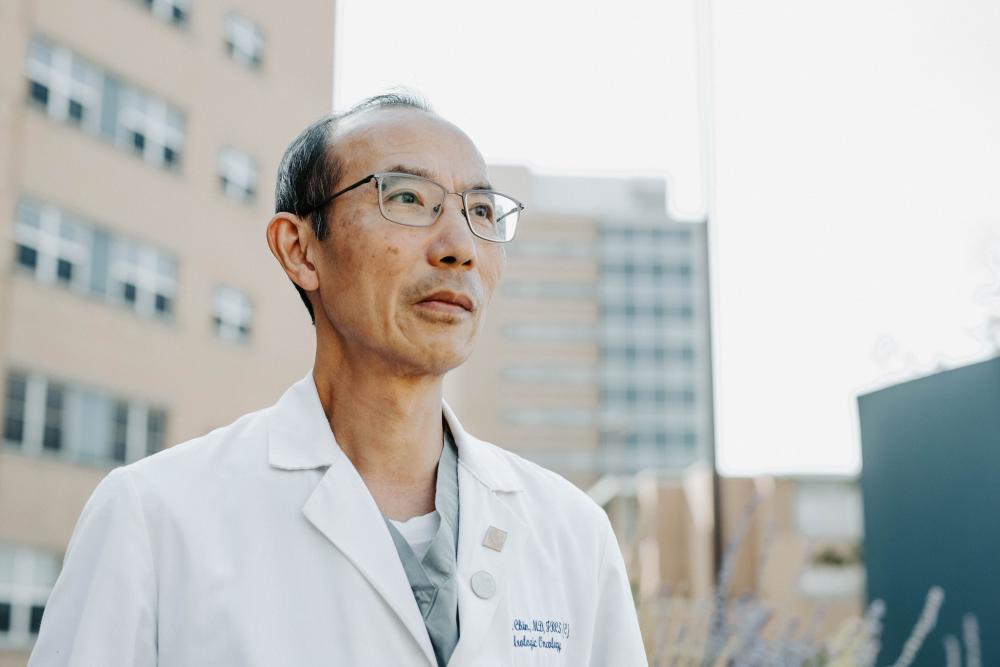 It's been some 43 years since Dr. Chin began his urology residency at the University of Western Ontario Teaching Hospitals in London, following his medical degree from the University of Toronto. In this time, he's remained resolute and focused on doing everything in his power to prevent and treat prostate cancer. And his contributions are nothing short of legendary.
A renowned surgeon and leader in urologic-oncology, Dr. Chin has also championed education, public awareness and fundraising efforts, all in support of vital prostate cancer research. Some of his fondest memories, he says, are of mentoring the next generation of surgeons and hearing updates on the successes of his patients. And while he may be quick to brush off compliments or praise, Dr. Chin is widely regarded as a staunch, tireless advocate who has immersed himself so fully in his chosen discipline.
Now, with retirement just on the horizon, London Health Sciences Centre (LHSC) and London Health Sciences Foundation (LHSF) would like to extend heartfelt congratulations on a long and distinguished career. For a lifetime's worth of dedication and accomplishment; for work and insights that have gone on to inform and affect countless lives, we invite you to celebrate with us the impact and legacy of Dr. Joseph Chin.
The decades at a glance
1984
Appointed to the Faculty of Medicine, Department of Urology (Division of Urology), with primary practice at University Hospital.
1995
Performs the world's first 3-D ultrasound-guided salvage cryosurgery for prostate cancer following radiation failure, now a minimally invasive alternative treatment for patients around the world.
1995
Dr. Chin relocates his main Urologic Oncology practice to Victoria Campus, LHSC*.
1997
Establishes the Annual UWO Uro-Oncology Fall Review, bringing guest speakers from various specialties across the continent as they relate to urology. As a well-regarded and much anticipated event, 2022 marks its 26th in-person event after two years of virtual assembly due to the pandemic.
1998
Dr. Chin and his research team establish what is now known as Dash 4 Dad. In partnership with LHSF, this walk/run raises awareness for prostate cancer and funds for prostate cancer research. It has been held every Father's Day for 24 years, raising more than $1.5M to date.
2004
Leads the urology team to perform the first robot-assisted radical prostatectomy in Canada at LHSC's University Hospital.
2007
Dr. Chin runs the Boston Marathon, raising funds for prostate cancer research. He repeats this again in 2009, 2011 and 2014, respectively. A total of $300,000 has been raised through this initiative.
2007
Helps show effectiveness of high intensity focused ultrasound (HIFU), another minimally invasive treatment for radio-recurrent prostate cancer. Dr. Chin's prospective database on such patients treated with cryosurgery and HIFU is one of the largest of its kind in the world, with one of the longest follow-ups of over 25 years.
2011
Appointed to The Order of Ontario, for contributions to treatment and raising public awareness of prostate cancer.
2012
Awarded the Queen's Diamond Jubilee Medal for prostate cancer research and treatment.
2013
Performs world's first transurethral magnetic resonance guided ultrasound ablation, another minimally invasive procedure for prostate cancer, as part of a clinical trial at University Hospital.
2017
Awarded the Lifetime Achievement Award of the Canadian Urological Association.
2022
Awarded the Lifetime Achievement Award by the Dean, Faculty of Medicine and Dentistry, Western University
2022
Helps establish the Chin-Hardie Chair in Urologic Oncology at LHSC.
*LHSC officially formed in 1995, with the amalgamation of University Hospital and Victoria Hospital