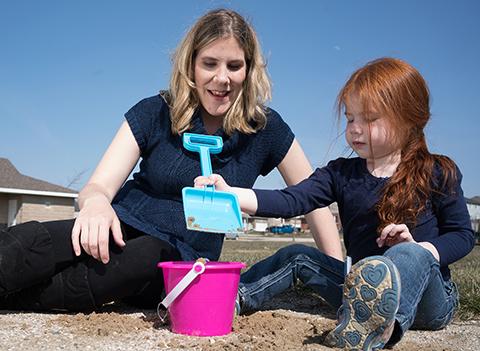 Women's health care needs are unique and they matter to the health of their children and the community. Today's investment in women's health will have a positive and profound effect on future generations.

With approximately 6,000 births per year at Victoria Hospital, complications undoubtedly arise. That's why Maternal Newborn Care – the specialty area that focuses on high-risk pregnancies – is so important.

With your help, London Health Sciences Foundation will enhance the expert care LHSC provides to women and families by supporting the following projects:
[ACCORDION_ITEM] [ACCORDION_TITLE]Ultrasound Technologies[/ACCORDION_TITLE] [ACCORDION_CONTENT]
One of the most profound experiences for a pregnant woman and her family is that first look at the baby – the heart beating, the baby moving and the touching realization that she is nurturing new life.

For those providing medical care to expectant mothers, the ultrasound is the "window" to the developing baby and mother's health. That window is now getting clearer with the advent of new, more precise and detailed ultrasound technologies that not only provide extensive information about the baby's health and growth—as early as the first trimester—but that are also used to detect gynecologic disorders and screen for cancer.

Imagine an ultrasound room with wall-mounted imaging screens, giving families an unforgettable experience when viewing their baby for the first time—an experience they can relive with a take-home recording. This could be made possible with the Women's and Perinatal Ultrasound Unit.
[ACCORDION_ITEM] [ACCORDION_TITLE]Urgent Care for Mothers[/ACCORDION_TITLE] [ACCORDION_CONTENT]
The anxiety of rushing to the hospital with a health concern can be amplified when you're pregnant. LHSC takes these concerns very seriously. Rather than using the traditional method of serving expectant mothers on a first-come, first-serve basis, care practitioners use the Obstetrical Triage Acuity Scale (OTAS).

The novel tool, which is highly regarded globally and is the first of its kind in Canada, was developed here at LHSC by Dr. Rob Gratton, Chief of Obstetrics, and his team. The OTAS tool rates patient symptoms on a standardized scale and determines who needs more urgent care. A renovated triage space is needed to best implement OTAS.
[/ACCORDION_CONTENT] [/ACCORDION_ITEM][ACCORDION_ITEM] [ACCORDION_TITLE]Research and Innovation[/ACCORDION_TITLE] [ACCORDION_CONTENT]
Think of how far women's care has come in the last few decades. Now imagine what will be available in the future. The Women's Care research plans include developing an extended first trimester screening program that will support mothers earlier in their pregnancy. They will build upon existing imaging techniques by working with different methods of low-risk ultrasound technologies and incorporating Magnetic Resonance Imaging (MRI) into their practice. The team will also continue to pursue safe clinical drug trials, which are necessary in moving forward medical discovery.
[/ACCORDION_CONTENT] [/ACCORDION_ITEM][ACCORDION_ITEM] [ACCORDION_TITLE]Perinatal Mental Health Care[/ACCORDION_TITLE] [ACCORDION_CONTENT]
Any woman is susceptible to depression or some form of mental health disorder in pregnancy or after birth. Perinatal mental health issues affect as many as 30 per cent of mothers and, when untreated, can cause a great deal of suffering for women, their partners and families. The perinatal period refers to the time within a few weeks before and after birth. Mental health issues can lead to pregnancy complications and can also affect the development and mental health of babies.

Through donor support, LHSC will improve the services offered at the Perinatal Mental Health Clinic by: enhancing the screening process to identify signs of a mental health disorder, creating web-based resource material for mothers and families, building upon what is currently being offered at the clinic and educating health care providers across the spectrum of women's care.
[/ACCORDION_CONTENT] [/ACCORDION_ITEM]