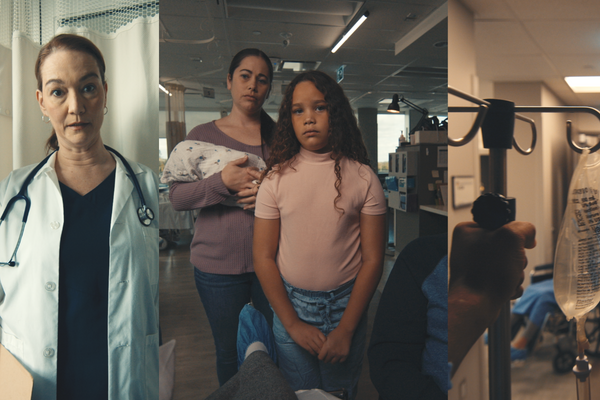 London Health Sciences Foundation (LHSF) is proud to announce a $25K matching gift from CIBC Private Wealth in support of Pancreatic Cancer Awareness Month, which runs from November 1 to November 30. Proceeds, including the matching gift, will directly support the Baker Centre for Pancreatic Cancer at London Health Sciences Centre (LHSC).
Inspired by the late Rick Baker's story and dedicated to giving back to the community they serve, CIBC Private Wealth is embarking on a month-long matching campaign to raise money and awareness for pancreatic cancer. With only a 10 per cent five-year survival rate, our patients need hope for a brighter future as pancreatic cancer is one of the toughest cancers to beat.
"For the month of November, we're helping our partners at the Baker Centre for Pancreatic Cancer raise money in honour of Pancreatic Cancer Awareness Month," said Jennifer Wagner, associate branch manager at CIBC Private Wealth. "The goal is to help give back more time to current and future patients devastated by the diagnosis so they can be with the ones they love."
Pancreatic cancer is a fast-growing cancer with one of the world's lowest survival rates. Diagnosis and treatment are complex with frequent delays and it is often not detected until an advanced stage, making treatment difficult. With a late-stage diagnosis and low survival rate, it seems like there is never enough time to make sense of the devastating news before it is too late. The Baker Centre for Pancreatic Cancer aims to change the standard of care for patients with pancreatic cancer to help provide them with more time to be with their loved ones.
A multidisciplinary clinic with new diagnostic technology, a streamlined process for patients and a Translational Pancreatic Research Program, the Baker Centre is able to provide genetic testing to all patients and focus on developing new treatment options for patients now and in the future.
"As leaders in giving back to the communities that we serve, it was meaningful to partner with London Health Sciences Foundation," said Brian Mills, CIBC Wood Gundy Branch Manager. "London Health Sciences Centre is a vitally important resource in Southwestern Ontario and by supporting this campaign, we are investing in our communities and having a positive impact in the lives of people we work with and serve."
The Baker Centre provides improved access to care, more targeted personalized therapies, new treatment options and in-depth testing for patients with pancreatic cancer across Southwestern Ontario – Windsor to London to Owen Sound. The strides in care and research that have already been accomplished are far-reaching and life-changing but there is still more to be done for patients living with pancreatic cancer. Join CIBC Private Wealth in their mission to give patients more time by donating today at lhsf.ca/cibcmatch.
"The team at CIBC Private Wealth is committed to making an impact on the lives of patients living in our community who have pancreatic cancer," said John H. MacFarlane, President and CEO of London Health Sciences Foundation. "So, I encourage everyone to join CIBC's mission and donate throughout the month of November to have twice the impact for those patients living with this deadly disease. Every dollar counts."