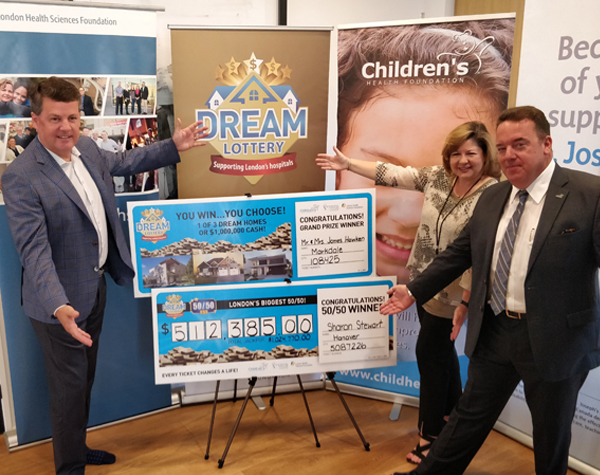 The top two winners of Dream Lottery in support of the regional hospitals in London were revealed this morning at the Millstone "Gallery" Dream Home in London.

Selling out a month before the final deadline, Dream Lottery has raised $33.6 million (net) since 1996 in support of Children's Hospital at London Health Sciences Centre, St. Joseph's Health Care London and LHSC. This was the eighth sellout in the lottery's history and the second in a row.
The ticket for the lottery's Grand Prize (ticket number 108425) was purchased by James and Joyce Hawken of Markdale. The winning ticket number was revealed by Children's Health Foundation President & CEO Scott Fortnum, who then called Hawken with the good news.
James Hawken answered the phone and when told he and his wife had the choice between one of the Dream Homes or $1 million cash, he was almost speechless.
"O.K….I'll have to look up my ticket, but in other words I'll …I'm just…um…O.K….can I take a few minutes to go crazy?"
Hawken then said he had to tell his wife. Fortnum volunteered to break the good news and James passed the phone to Joyce. She was also in disbelief.
"Are you sure?" she said.
After being assured it was true, James came back on the line.
"It's starting to sink in here," he said.
The couple is expected to visit the London homes today.
The winner of the region's largest 50/50 was also revealed this morning. Sharon Stewart of Hanover (ticket number 5087226) takes half of the $1,024,770 prize. This is the first time the 50/50 has topped $1 million. St. Joseph's Health Care Foundation President & CEO Michelle Campbell called Stewart for her reaction but the phone call initially went unanswered. Lottery officials did get a hold of her later in the morning.
"Wow, thank-you so much! I hear people clapping in the background…you should see what's going on here!" Stewart responded when told how much she had won.
Stewart says that she is a longtime supporter of the lottery, the cause and health care available at the regional hospitals in London.
All winning numbers for the lottery were drawn July 18, 2018 at the office of Deloitte LLP, 255 Queens Avenue, Suite 700, London, Ontario under the supervision of accountants of record from the firm Deloitte LLP. The primary purchaser of each winning ticket will be contacted by phone and/or mail. The names of major prize winners are posted on-line at www.dreamitwinit.ca and a printed list of winners is also available upon request by calling 1-866-319-9818.
The winning will continue next month with the Dollars & Destinations Calendar draws. Winning names and numbers will be posted each day in August on the Dream Lottery website at www.dreamitwinit.ca and on Dream Lottery's Facebook page at www.facebook.com/dreamitwinit.
Additional Quotes:
"Dream supporters contribute significant funds for advanced equipment, emerging technology, research, training and education– all of which supports excellent patient care at our hospitals. Thank you!" Scott Fortnum, President & CEO, Children's Health Foundation

"Thanks to Millstone Homes, Mienen Custom Homes, Shoppers Drug Mart and all suppliers for ensuring an amazingly successful Dream Lottery. Most of all, thanks to Dream ticket buyers for helping our hospitals care for the most critically injured and medically complex patients from across the region." Michelle Campbell, President & CEO, St. Joseph's Health Care Foundation
"Thank you to everyone who supports their families, friends and neighbors by buying Dream Lottery tickets. The funds raised stay local, helping London's hospitals provide the best care for patients from the Southwestern Ontario community." John MacFarlane, President & CEO, London Health Sciences Foundation