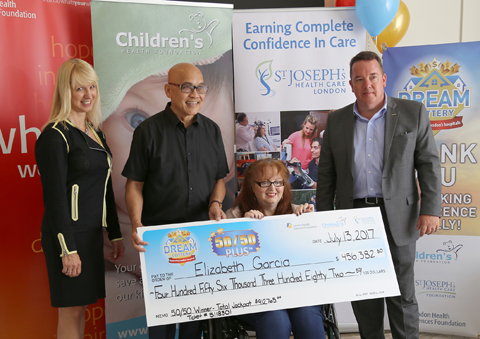 Many people dread the thirteenth of the month but in July it was exceptionally lucky for some as the top winners of Dream Lottery were announced at the London prize home.
Dermot Brennan of St. Thomas won the Ultimate Grand prize. For his prize Brennan can choose between two amazing home packages – each includes a car and cash - or a cool $1 million in cash. London Health Sciences Foundation President and CEO John MacFarlane phoned Brennan to give him the good news.
"Oh my god," Brennan exclaimed, adding that he was just waking up. During the brief call Brennan didn't hint at what option he was leaning towards.
Elizabeth Garcia of Dorchester is the winner of half the 50/50 Plus pool. Children's Health Foundation President and CEO Scott Fortnum called Garcia to let her know she was a winner. She screamed and then cried when Fortnam told her that she would receive $456,382.50.
When Garcia and her husband Antonio arrived at the Dream home later that morning, she explained why the money is so welcome. She has had both hips replaced during the past year and Antonio had quit his job after the first surgery to look after her during her recovery.
"It's like winning the lottery", Garcia joked before praising the care of London's hospitals and saying her orthopaedic surgeon at LHSC, Dr. Richard McCalden, is amazing.
To top off the morning, two Gear Up Giveaway winners were announced by St Joseph's Health Care Foundation board member Lesley Cornelius. Ken McCann of London won the first giveaway: the choice between a camper, truck, sedan or boat or he can simply opt for $40,000 cash. Richard Sheldrick of London won the second giveaway - the choice between an ATV and a motorcycle, or $8,000 in cash.
While all the top prize winners praised the Dream Lottery cause, MacFarlane says it's the ticket buyers who should be thanked. The lottery has raised more than $30 million since 1996 in support of London Health Sciences Centre. Children's Hospital at LHSC, and St. Joseph's Health Care London.
"Dream supporters help us meet our hospitals' highest priority needs for advanced equipment, emerging technology, research, training and education – all of which helps create amazing patient care," says MacFarlane. "We can't say thanks enough."
Cornelius and Fortnum also acknowledged everyone who helped make the lottery a success and their contribution to regional healthcare.
"We want to thank Bridlewood Homes and Prespa Homes, Shoppers Drug Mart, our lottery suppliers and volunteers - and most of all the people who buy Dream Lottery tickets," says Fortnum "Their support continues to help our hospitals care for children and their families from across the region."
All winning numbers for the lottery were drawn July12 at the office of Deloitte LLP in London, under the supervision of the accountants of record. The names of major prize winners are posted online at www.dreamitwinit.ca and all winners will be contacted by phone and/or post mail. And the winning continues with daily winners of the Dollars Destinations and Design Calendar announced each day in August on the Dream Lottery website and on Dream Lottery's Facebook page.
Watch the video from the draw day here.