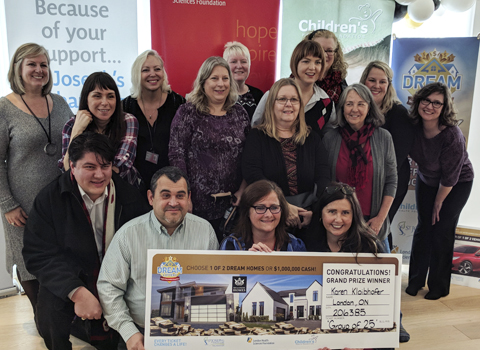 The top four winners of Dream Lottery in support of the regional hospitals in London were revealed this morning at the Millstone Wickerson Dream Home in Byron.
Selling out two weeks before the final deadline, Dream Lottery has raised more than $31.6 million (net) since 1996 in support of St. Joseph's Health Care London, London Health Sciences Centre and Children's Hospital at LHSC. This was the seventh sellout in the lottery's history.
The ticket for the lottery's Ultimate Grand prize (ticket number 206385) was purchased by Karen Kloibhofer of London. St Joseph's Health Care Foundation President and CEO Michelle Campbell called Kloibhofer to give her the good news.
"Is that true? Oh, my goodness, that's amazing! I think you made 25 of us insanely happy!" Kloibhofer exclaimed.
Kloibhofer purchased the winning ticket on behalf of a group of 25 current and former Fanshawe College placement consultants who help students find both course-required and post-graduate employment. Kloibhofer immediately e-mailed the group who began arriving at the Dream home around 10 a.m. Not all were able to make it quickly to the home as some are from St. Thomas and Simcoe.
This is the first time a group has won the lottery's top prize - the choice between three prize options: the spectacular light-filled Millstone Wickerson Dream Home, complete with an indoor basketball court and overlooking the year-round activities at Boler Mountain, or the luxurious Millstone Highland Dream Home with its soaring ceiling and backing onto the Highland Country Club's golf course in London, or a cool $1 million in cash instead. With 25 in the group, they will be taking the cash option.
"Thanks to Dream supporters for raising vital funds supporting our hospitals' highest priority needs in advanced equipment, emerging technology, research, training and education – all of which helps create patient care excellence," says Michelle Campbell, President & CEO, St. Joseph's Health Care Foundation.
Vasile Canuca of Millstone Wickerson (left) and John MacFarlane, President and CEO, London Health Sciences Centre (left) presents Mark Stekar and his wife .
The winner of the region's largest 50/50 was also revealed this morning. Mark Stekar of Kilworth (ticket number 5099249) takes half of the $960,690 prize pool – which is also the largest in the lottery's history. London Health Sciences Foundation President and CEO John MacFarlane called Stekar for his reaction but he didn't answer the phone. 
After Stekar's wife Anna received texts from neighbours urging him to turn on his phone, lottery officials and Stekar were able to connect and MacFarlane was able to give him the good news.
"That's incredible, thank you, I've been supporting the lottery ever since we moved here." Steckar said.
To top off the morning, the winners of the Dream Drive and Dream Wheels prizes were announced by Children's Health Foundation President and CEO Scott Fortnum. 
James McCarthy of Granton (ticket number 109375) won the Dream Drive giveaway - the choice between a Subaru Impreza, a VW Tiguan or a Ford Mustang or they can simply opt for $25,000 cash instead. Russel Paddon of St. Thomas (ticket number 158386) won the Dream Wheels giveaway - the choice between a Toyota C-HR or a Honda Civic, or $25,000 in cash.
All winning numbers for the lottery were drawn January 10, 2018 at the office of Deloitte LLP, 255 Queens Avenue, Suite 700, London, Ontario under the supervision of accountants of record from the firm Deloitte LLP. The primary purchaser of each winning ticket will be contacted by phone and/or mail.  The names of major prize winners will be posted on-line at www.dreamitwinit.ca by Thursday, January 18, and a printed list of winners is also available upon request by calling 1-866-319-9818.
The winning will continue next month with the Money & Memories Calendar draws. Winning names and numbers will be posted each day in February on the Dream Lottery website at www.dreamitwinit.ca and on Dream Lottery's Facebook page.