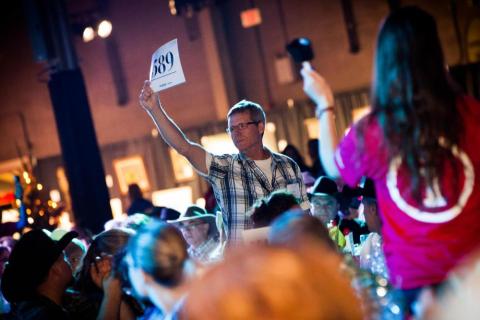 Making a Difference for Over 30 Years
Donors who attend or contribute to Country Classic Auction raise funds for London Health Sciences Centre's (LHSC) leading edge care and research.
Highlighted below are some examples of our community's collaborative impact on patient care at LHSC.
Dedicated to Improving Mental Health
Last year, in what can only be described as an incredible show of support, local McDonald's franchisees committed to donating a remarkable $250,000 for First Episode Mood & Anxiety Program (FEMAP) which inspired guests to raise their bid cars. In less than 20 minutes, more than $265,000 was raised by generous donors to improve much needed access to mental health care for youth in our community.
The funds raised through CCA in recent years have also contributed to:
supporting youth who need treatment through FEMAP
the hiring of a new mental health researcher to support innovative projects and research within the mental health program
Cornerstone Counselling, helping youth better manage stress, anxiety, relationships and life
Mental Health INcubator for Disruptive Solutions (MINDS), seeking to promote the mental and emotional well-being of transitional-aged youth

Proudly Supporting Women's Health
Over the years, funds from CCA have contributed to improve patient access, community education, and training for new leading-edge technologies making a significant impact on the health and lives of female patients. CCA is proud to have made an impact in the following areas of women's health:
the development of the Grace Donnelly Women's Health Pavilion, consolidating specialized women's care in one convenient and comfortable location
a new Clinical Nurse Specialist role in gynecology dedicated to improving patient access
education programs on breastfeeding practices and perceptions of mothers with young infants
Assisted Reproductive Technologies to enhance embryo and pregnancy health

Renewing Possibilities through Renovations & Equipment
The need for new or existing spaces is ever-present as technology changes, processes change and patient populations rise.Funding for renovations and equipment provides patients with the best possible outcomes. Since it's inception, CCA funding has contributed to larger projects like:
the Lindros Legacy Research building,focusing on active research that will have a lasting positive effect on future generations
the expansion and renovation of Neuro-Critical Care Unit, helping to meet the needs of a continuously aging population
the purchase of a Spo2T Bed System that enhances patient comfort during recovery in the Intensive Care Unit (ICU)
the purchase of the DA VINCI SI HD Robot, a faster, less-invasive surgical tool that leads to shorter hospital stays and improved outcomes
new high-definition imaging for surgery that will lead to better accuracy for minimally invasive surgeries; cutting costs,recovery time and patient wait times