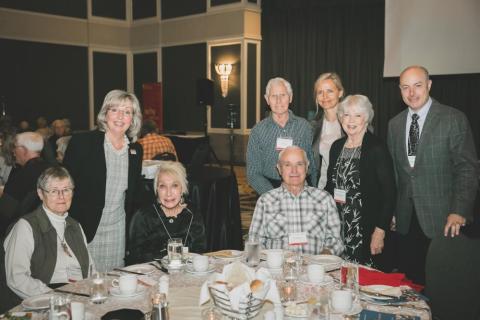 Our esteemed Donors for Tomorrow Society is comprised of donors who have made the important decision to support London Health Sciences Foundation by way of an end-of-life gift. These can include a bequest, insurance gift or beneficiary designation on an RRSP, RRIF or Tax Free Savings Account, as well as other strategically planned giving structures.
We believe in thanking our donors when they pledge a gift and demonstrating the significant impact this forward-thinking way of giving can have on our hospital and community.
The Donors for Tomorrow luncheon, held annually in October, is designed to update our members on how donor support is transforming key hospital programs. Each year, the luncheon features a captivating presentation on recent developments within a unique area at LHSC. These presentations are tailored to the interests of our guests engaged in how planned giving will shape the future of health care. This memorable lunch is attended not only by valued donors, but also our hospital's Senior Leadership team. This year's luncheon will take place October 25, 2018. Invitations will be sent to Donors for Tomorrow members in September.
To learn how you can become a member of this visionary society, please contact Kathy Papineau-Thornhill at 519-685-8785.

Thank you to our 2017 Donors for Tomorrow Sponsors

Friends of the Foundation Partners:
-Harris Funeral Home
-RBC Wealth Management Dominion Securities - Cunliffe Hicks Wealth Management Group
-Extended Families Support Services