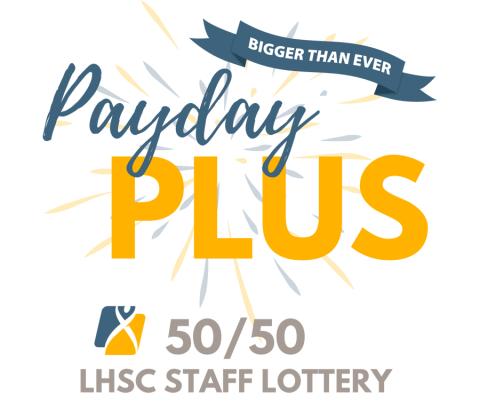 FREQUENTLY ASKED QUESTIONS:
Yes, there is a limit of 40 tickets maximum per person.
Participants must be 18 years of age or older. 
Draws will be held on the Friday of every payday at 10:00 a.m., draws will take place at the London Health Sciences Foundation office located at 747 Base Line Rd., East, London, ON.
See here for DRAW DATES.
There will be a total of 20,000 tickets available for purchase. 
The actual prize amount varies with participation to a maximum of $30,000 per draw. Fifty percent of all monies received for each bi-weekly draw will be awarded to the winner. The other fifty percent of all monies will be used towards London Health Sciences Centre's highest priority needs, including equipment, research and patient care. 
Names will be placed on a waiting list. If a spot becomes available, the ticket will be reassigned to the next person on the list in the order in which their enrolment form was received.  
Two ticket purchasing options are available: Payroll deduction and credit card payment are accepted.
Deductions are dependent on the number of tickets you purchase. Tickets are $3 per ticket. For example: If you select 3 tickets $9 will be deducted each pay period and 3 tickets will be entered into the draw each pay period.

Tickets purchased through credit card will be charged one lump sum for the number of tickets purchased for all remaining draws. For example: If you select 2 tickets and there are 26 draws remaining, your credit card will be charged $156 at time of purchase. No refunds will be issued on credit card ticket purchases. 
Ineligible ticket numbers will be held for two consecutive draws. If an employee does not pay by the third draw, that ticket number will be offered to another individual. The Payday Plus 50/50 London Health Sciences Centre Staff Lottery will make every attempt to notify all lottery participants whose ticket numbers are not eligible prior to cancelling their eligibility. If a ticket holder on payroll deduction misses two consecutive pays, payment via credit card will be required to ensure ticket eligibility. 
If you sign up before December 23, 2022, your first deduction will be January 6, 2023. After the first cutoff, deductions will begin on the next available pay period. 
Alcohol and Gaming Commission regulations prohibit the following persons and their immediate families residing in the same household from purchasing a ticket: Employees of London Health Sciences Foundation and Children's Health Foundation. 
You can cancel your participation in the staff lottery at any time. Simply notify London Health Sciences Foundation in writing by email to stafflottery@lhsc.on.ca or call the foundation office at 519-685-8812. Cancellations must be received two weeks prior to the draw date. To resume play, if tickets are still available individuals can re-enrol to participate. If tickets are sold out, individuals will be added to the bottom of the waiting list and will be accommodated on a first-come, first-served basis, as tickets become available. 
You can request an increase or decrease in the number of tickets by notifying London Health Sciences Foundation in writing by email to stafflottery@lhsc.on.ca or calling the foundation office at 519-685-8812. 
Your ticket number(s) will be emailed to the email address provided during sign-up. 
Unfortunately, lottery ticket purchases are non-receiptable, as per CRA guidelines. 
Proceeds will support London Health Sciences Centre's highest priority needs including equipment, research and patient care. 
Only one name will be listed on a ticket. Group purchases are permitted; however, members must work out the details of payment and payout amongst themselves. The winning prize, in the case of a group purchase, will be issued in the name of the ticket holder. 
Winners will be notified by phone and/or email that they have won within 24 hours of the draw. 
The winner's name and ticket number will be posted on the Payday Plus 50/50 website at www.lhsf.ca/paydayplus. All ticket purchasers will receive an email notification after each draw announcing the winner.  
Your ticket will go back into the draw for all remaining draws as long as payroll deduction has taken place and or credit card payment has been received.
The winner must present a photo identification card upon collection of their prize. Prize can be collected in person at London Health Sciences Foundation office.  
LL: #RAF1290505